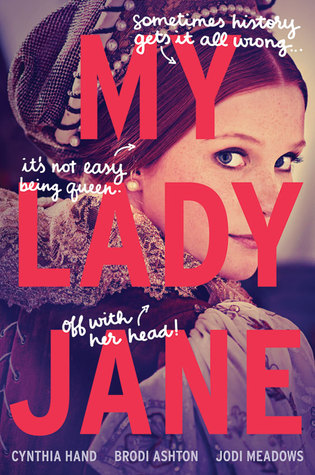 My Lady Jane by Brodi Ashton, Cynthia Hand, and Jodi Meadows (Lady Janies)
Format: Audiobook, narrated by Katherine Kellgren
Publisher: HarperTeen
Pub. Date: June 6th, 2017
Buy it:
Amazon
|
Barnes and Noble
|
Book Depository
This comical, fantastical, romantical, New York Times bestselling, (not) entirely true story of Lady Jane Grey is "an uproarious historical fantasy that's not to be missed" (Publishers Weekly, starred review).

In My Lady Jane, coauthors Cynthia Hand, Brodi Ashton, and Jodi Meadows have created a one-of-a-kind YA fantasy in the tradition of The Princess Bride, featuring a reluctant king, an even more reluctant queen, a noble steed, and only a passing resemblance to actual history—because sometimes history needs a little help.

At sixteen, Lady Jane Grey is about to be married off to a stranger and caught up in a conspiracy to rob her cousin, King Edward, of his throne. But those trifling problems aren't for Jane to worry about. Jane gets to be Queen of England.

Like that could go wrong.
This is one of those books that when you finish it, you automatically want to find any excuse to reread it as soon as possible. My Lady Jane is an absolute ray of sunshine, and I adored every second of it. The characters are absolutely charming, and the story itself reminds me a lot of The Princess Bride (the movie, since I haven't read the book), which makes sense since that's what it's compared to in the synopsis. While listening to this audiobook, I was laughing constantly and smiling to the point where my cheeks began to hurt. This was also my first time reading listening to a book written by three different authors so I initially wasn't sure what to expect but in the end, My Lady Jane ended up being utterly wonderful and perfect.
Oh, how badly I wish this book was a trilogy! Though we are getting more books by these amazing ladies (and I'm highly anticipating all of them, especially
My Plain Jane
),
I'm going to miss these characters so much. I loved
all
of them. Do you know how
rare
this is? The last time I loved
all
of the main characters of a book was the
Six of Crows
duology.
Normally while reading, I focus on two characters (in most cases, this ends up being the main ship) or three characters. The rest of the characters are usually just filler for me while waiting for my favorites to appear again, but not in this book!
So guys, if you were an idiot like me and have been putting off reading this side-splitting book for whatever reason, stop it now and go read it! I especially recommend listening to the audiobook, because it's now one of my all-time favorites.
It's no wonder that Katherine Kellgren has won
so many awards
. Her British accent in this is perfect, and the way she narrates this story is absolutely hysterical. While I'm sure I would have laughed a lot if I had just been reading the finished copy, Katherine Kellgren had me bursting out in hysterical laughter the entire time (which was fun while I was at work or on the train, let me tell you . . . xD). You better believe I'm going to be listening to every audiobook of hers that I can get my hands on.
1) My Lady Jane has the best dedication—ever.
2) The writing is pure genius. It perfectly illustrates everything that's happening, it brings the characters to life, and most importantly, it will undoubtedly make you very happy while reading. The combination and chemistry of the writing of the three authors is magical, and I can't wait to read all of their future works!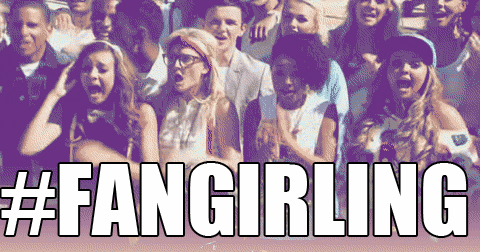 3) Outstanding banter always needs its own positive point on this blog because it's usually what seals my love for a book, and the dialogue in My Lady Jane is GOLD. Every line is a memorable quote or a perfect comeback—simply wonderful.
4) I love each and every character—with the exception of the bad guys, which is normal, right? The two main ships are hilarious and sweet. There is a small bromance between Edward and Gifford, which is I think is absolutely adorable. Gracie and Jane have this great banter between them. They don't have a lot in common, but they team up when it counts, which is great. I even love the side characters—especially Pet and Mary! Overall, the characters in this book are a real treat.
5) I really love the idea behind this book. The authors didn't like what really happened to Lady Jane Grey, so they decided to change it, and I think that's really beautiful. In general, I love the way real history was wrapped up in this magical story. It was the perfect balance of history and fantasy, and like all great historical fiction novels, it made me interested in the actual history behind the story.
We have no more books with these specific characters.
"No horse jokes," he said.

"My lord, I apologize for the horse joke. If you put down the book--unharmed!--I will give you a carrot."

He brandished the book at her. "Was that a horse joke?"

"Neigh."

"Was that a horse joke?
"I know I'm not inspiring much confidence at this point, but there's something else I thought I'd bring up." She lifted her eyes to him. "I love you more than I love books."

"On everyone's lap rested a book. Any book. In case the wedding got boring."
"Your majesty, please reconsider," Lord Dudley pleaded. "Your position will be much stronger with your husband as king. The people will see it as a sign of strength - "

She took a deep breath. "They need signs of my strength, not my reliance on the men around me"