My TBR list is always growing and I thought it would be fun to share my anticipation for those books with all of you. This is not my own original meme; it belongs to Breaking the Spine. It specifically spotlights upcoming releases. As it implies in the title, I'll be posting this meme on Wednesdays. Please feel free to comment and let me know what books you guys are waiting on as well!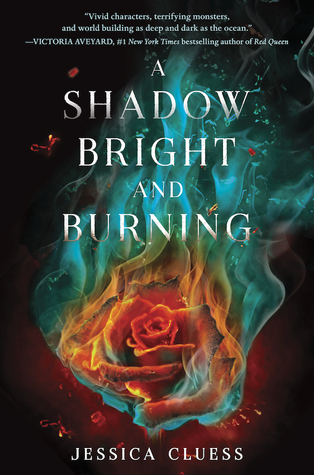 A Shadow Bright and Burning (Kingdom on Fire #1) by Jessica Cluess
Published by Random House Books for Young Readers
Publication Date:
September 20, 2016
Pre-Order it:
Amazon
|
B&N
|
Book Depository
Henrietta Howel can burst into flames.

Forced to reveal her power to save a friend, she's shocked when instead of being executed, she's invited to train as one of Her Majesty's royal sorcerers.

Thrust into the glamour of Victorian London, Henrietta is declared the chosen one, the girl who will defeat the Ancients, bloodthirsty demons terrorizing humanity. She also meets her fellow sorcerer trainees, handsome young men eager to test her power and her heart. One will challenge her. One will fight for her. One will betray her.

But Henrietta Howel is not the chosen one.

As she plays a dangerous game of deception, she discovers that the sorcerers have their own secrets to protect. With battle looming, what does it mean to not be the one? And how much will she risk to save the city--and the one she loves?

Exhilarating and gripping, Jessica Cluess's spellbinding fantasy introduces Henrietta Howel, a powerful, unforgettable heroine, and an entertaining world filled with magic, monsters, and mayhem.
I wanted this book waaaaaay before I ever saw this cover, but look at that cover! How can you NOT want a book with a cover like that? It. Is. GORGEOUS. I can't even. I'll tell you, when I get a copy of this book, there will be a lot of petting involved haha.
I love Victorian London (in books, and maybe to visit if I had a time-turner, but not to live in) and then you mix it with demons and magic . . . and handsome young men . . um . . .
Jessica Cluess is a writer and general ne'er-do-well. A graduate of Northwestern University, she now lives and works in Los Angeles, where she has served coffee to the rich and famous.

Her debut YA fantasy, A SHADOW BRIGHT AND BURNING (Random House, Fall 2016) tells the story of a young girl who is selected as the first-ever female sorcerer, the Chosen One who must save the empire. But the glamour of her new life hides enemies who would love to know her dark secret—that she might not be the Chosen One after all.
Connect with Jessica: Website | Twitter | Goodreads | Tumblr | Pinterest