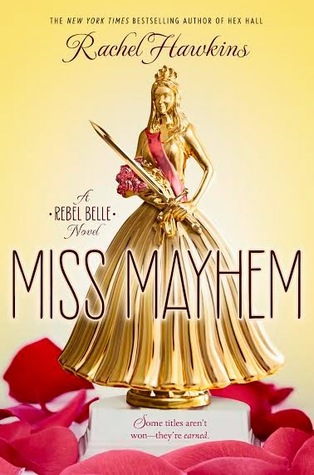 1/5 Stars
Details of the Book
ARC paperback, 273 pages
Published by Putnam Juvenile
Expected Publication Date: April 7, 2015
Synopsis:
Life is almost back to normal for Harper Price. The Ephors have been silent after their deadly attack at Cotillion months ago, and best friend Bee has returned after a mysterious disappearance. Now Harper can return her focus to the important things in life: school, canoodling with David, her nemesis-turned-ward-slash-boyfie, and even competing in the Miss Pine Grove pageant.
Unfortunately, supernatural chores are never done. The Ephors have decided they'd rather train David than kill him. The catch: Harper has to come along for the ride, but she can't stay David's Paladin unless she undergoes an ancient trial that will either kill her . . . or connect her to David for life.
Unfortunately, I don't think this trilogy is for me. As much as I tried to force myself into the story, I just couldn't. This book begins not long after
Rebel Belle
ends and there is no relationship in this book that I can take seriously. It's a teen drama book with a tiny bit of a fantasy twist. If you like the show
The Hills
or
Laguna Beach
but with a southern spin and a tiny bit of magic, I'd suggest this to you. As you may have already guessed the book centers around the relationship drama between all of the characters. Mostly on Harper and David's mismatch of relationship and how the magical life is ruining Ryan's any chance at a normal life. Everything else kind of sits on the back-burner. All of the supernatural elements kind of hovers over the rest of the plot but it's so minor that it's difficult to take it seriously. I don't think I'll be reading the next one.
Strengths/Likes:
1)
I like how much the supernatural elements affected the character's lives. Even though the supernatural elements didn't play enough of a role for me in this book it still effected all of their lives in negative manners. It's not easy incorporating supernatural elements into the already hectic high school life and this book shows that.
Weaknesses/Dislikes:
1)
All of the couples where hard to take seriously. They end pretty much as quickly as they start which makes it difficult to believe that any of the feelings involved to be sincere. When the character's feelings don't seem sincere I have a hard time caring about their relationships when they don't seem to.
2)
There is really not much going on plot-wise. As I said, the book focuses more on the high school and dating drama and the supernatural stuff is just kind of
there.
There was very little action and when there was it seemed forced and overdramatized. There was zero suspense and predictable.
3)
As you can probably figure out from my previous point; this book was pretty slow in pace. There wasn't a whole lot going on and it felt like I was reading everything in slow motion. I was pretty bored.
4)
I'll probably get a lot of slack for this one but I don't like Harper and David as a couple. I don't think they have any chemistry. This book doesn't spend any time on developing their relationship either. It starts with the two of them being a full on couple with basically no-alone time, no dates, or stolen moments. Heck, they spent most of this book apart. When they are together they spend half the time arguing and they are complete opposites. I know they say opposites attract but I wasn't buying it in this one. They spent years publicly shaming each other and suddenly they're in love.