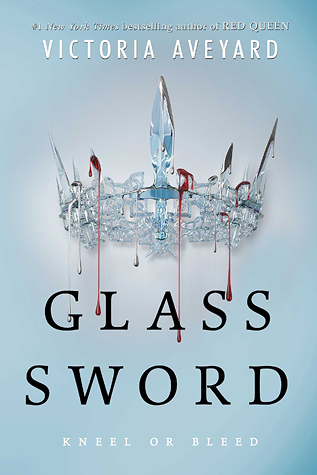 Glass Sword (Red Queen #2) by Victoria Aveyard
Paperback ARC, 440 pages
Published by HarperTeen
Publication Date:
February 9, 2016
Pre-order it:
Amazon
|
Barnes & Noble
|
Book Depository
Mare Barrow's blood is red—the color of common folk—but her Silver ability, the power to control lightning, has turned her into a weapon that the royal court tries to control.

The crown calls her an impossibility, a fake, but as she makes her escape from Maven, the prince—the friend—who betrayed her, Mare uncovers something startling: she is not the only one of her kind.

Pursued by Maven, now a vindictive king, Mare sets out to find and recruit other Red-and-Silver fighters to join in the struggle against her oppressors.

But Mare finds herself on a deadly path, at risk of becoming exactly the kind of monster she is trying to defeat.

Will she shatter under the weight of the lives that are the cost of rebellion? Or have treachery and betrayal hardened her forever?
Glass Sword
is pain and suffering incarnate. If you're looking for a book to break your soul, this is the one. I really enjoyed reading more about Mare's character arc; her descent from Mareena to Mare—the symbol of the Red Rebellion—reminds me a lot of Adelina in
The Rose Society
. I did find
Glass Sword
to be more predictable than
Red Queen
and even found myself bored at times. Although I enjoyed reading it,
Glass Sword
was missing the factor that would have made me
love
it. I am still extremely curious about what's going to happen, but I think I need to read a lot of happy books before book three comes out.
1)
Cal goes through a lot of crap during the course of
Glass Sword
's plot—and I mean
a ton
of crap. You really get to know him better throughout this book through all of his struggles and turmoil. I can't say that I always agree with his choices, but he's so well-developed that he feels like a real person. He has the most normal reactions considering everything he has to deal with in this book and I honestly just love him.
2)
Shade is ever-present throughout the book, and his relationship with Mare is just so adorable! He puts up with her hasty decisions and is always around to support and protect her. You get so much more of him in this book, and it's great. I can't say much more about him without spoiling things but guys, be prepared for pain!
3)
I ship Cal and Mare so hard. I mean, these two just need to get over the rebellion together (instead of separately) and just admit that they love each other. You get to see more of their struggle regarding their feelings for one another and you see them trying to piece together their relationship, despite what's going on around them. I just need more of these two.
4)
Aveyard knows how to world-build in a way that makes it easy to picture everything in your head. Especially during the action scenes, I felt like I was watching a movie rather than reading a book.
5)
PTSD is so well-described and executed throughout this entire book. Considering all of the pain and suffering the characters go through, Aveyard never lets that pain disappear. The characters have nightmares, can't sleep, hallucinate, etc. Every ghost and traumatic experience haunts the characters, and in turn, it haunts the reader as well.
1)
There were long chunks of time where I was bored. Since this book has a lot of training and rebellion planning, there isn't a lot of action. You get information on new red soldiers and their powers, but I didn't feel attached to any of the newcomers. Also, since this book is even more predictable than
Red Queen
, I wasn't surprised by anything.
2)
I kind of liked Kilorn in
Red Queen
but in
Glass Sword,
he just got on my nerves. He couldn't really do much and at times, he was pretty judgmental. Although he's best friends with Mare, it doesn't seem like he really accepts her and that really bothers me.
3)
I had a hard time understanding the way Mare thinks and reacts throughout the book. Even though she has a lot to deal throughout
Glass Sword,
her way of thinking and reacting doesn't always match up with what is happening. There were times when she was mad about one thing, but later on in the book when something similar (but even worse) happened, she wasn't mad at all. I felt like I just couldn't figure her out for a large portion of the book.
I'm safer than I have been in days, surrounded by the people I love most, and yet I've never wanted to cry more. For them, I hold back. I curl inward and bleed alone, inside, where no one else can see.
Cal's eyes flicker, out to the trees. But he's not looking at the leaves. His gaze is in the past, to something more painful. "She killed my true mother as well. And she'll kill all of us if we let her."

The words come out hard and harsh, a rusty blade to saw flesh. They taste wonderful in my mouth. "Not if I kill her first."

For all his talents, Cal is not a violent person. He can kill you in a thousand different ways, lead an army, burn down a village, but he will not enjoy it. So his next words take me by surprise.

"When the time comes," he says, staring at me, "we'll flip a coin."
"If you die, I'll kill you."

He smiles sadly. "Likewise."
"What's wrong now?" I ask, laying my head on his shoulder. So I can see the map better, I tell myself.

"Besides Maven, his mother, the fact that I hate rabbit, and the layout of this hellhole of a prison? Nothing at all, thanks for asking."
a Rafflecopter giveaway