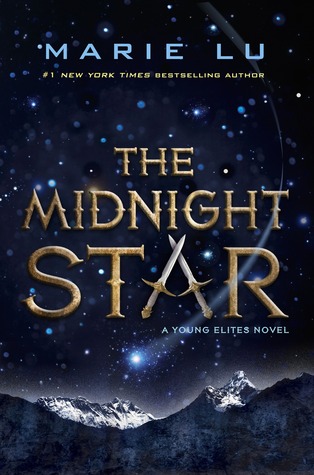 The Midnight Star (TYE #3) by Marie Lu
Bound Manuscript, 314 pages
Publisher: G.P. Putnam's Sons
Pub Date:
October 11, 2016
Buy it:
Amazon
|
B&N
|
Book Depository
There was once a time when darkness shrouded the world, and the darkness had a queen.

Adelina Amouteru is done suffering. She's turned her back on those who have betrayed her and achieved the ultimate revenge: victory. Her reign as the White Wolf has been a triumphant one, but with each conquest her cruelty only grows. The darkness within her has begun to spiral out of control, threatening to destroy all that she's achieved.

Adelina's forced to revisit old wounds when a new danger appears, putting not only Adelina at risk, but every Elite and the very world they live in. In order to save herself and preserve her empire, Adelina and her Roses must join the Daggers on a perilous quest—though this uneasy alliance may prove to be the real danger.
Warning: Because this is the final book in the trilogy, things I mention might spoil you for the series as a whole. Though I will try my best to keep spoilers to a minimum and/or tag them, read this review at your own risk 💀
I wrote this review moments after I have finished
The Midnight Star,
so it's going to be pretty raw so I hope you'll forgive me. When I finished
The Rose Society
, I was absolutely wrecked. I couldn't pick up another book for over a week due to the immense book hangover... I expected nothing less in this book.
As expected, this was me:
Everything that I predicted would happen did, and you'd think that would have prepared me for when it came time to read it. WELL, IT DIDN'T. My chest feels like it's caving in and there is not enough ice cream in the world to help me through this.
For those of you who don't know, I use color-coded post-its to keep track of certain types of scenes. Hot pink for romance, orange for hilarious, and blue for sadness. THIS BOOK IS ONE BIG, BLUE POST-IT.
I honestly don't know how to deal with this... or how I'm going to be able to pick up another book without my mind focusing solely on how The Midnight Star broke me. The night I started reading this, I stopped myself at 75% of the way through because the pain in my heart was already so heavy, I was afraid that I wouldn't be able to sleep without nightmares plaguing me.
At the same time, I don't want you guys to think that this book is just all sadness. That isn't the case. I feel that Marie Lu simply knows that if she really wants to obliterate her readers, she has to give them fleeting moments of happiness before she completely crushes us.
This book is the perfect conclusion to this trilogy. Although I am in complete and totally agony over everything that happened, it's the right ending and it will forever be one of my favorite books.
1)
As I already stated, this is the perfect ending to this trilogy. There's nothing I would change about it. I have no complaints, and though my heart is broken, it's worth it. Marie Lu's writing is top notch, as always, so if you loved the other two books in the trilogy, I'm confident you'll love this, even if it crushes your heart a little.
2) The character arcs are phenomenal. We all watched as Adelina started out as a mistreated, innocent, malfetto who turned gradually into a villain. In The Midnight Star, Adelina and all of the other characters continue to struggle with the consequences of their actions. Characters that you didn't think would ever be redeemable, suddenly are! At the same time, no bad behavior is excused or brushed over, but you do get to see the characters strive to be better, to be more understanding, and to work together, and I think that's beautiful.
3)
Adelina is still one of the most complex characters I have ever read, and I truly adore her. Even when she's doing things I consider to be morally wrong, I still see her side. The fact that she has even made me question my own morals is astounding. She will forever have a special place in my heart.
4) I can't believe it's taken me to point number four to state this, but Marie Lu is an exceptional writer. Her prose and dialogue are masterful, her character voices are unique and distinctive, and each time I read one of her books, I'm in awe of her skills. She's definitely an auto-buy author for me.
5)
Spoiler Alert:
This is the first time
ever
that I am happy about my main ship sinking and loving the new canon ship. At the end of
The Rose Society,
it's pretty obvious that Enzo and Adelina are over, BUT I still had some hope that might change in
The Midnight Star.
It didn't happen, and I'm actually okay with that. I think that's because Marie Lu gave us time to get used to Magiano before moving forward with his and Adelina's relationship.
a Rafflecopter giveaway