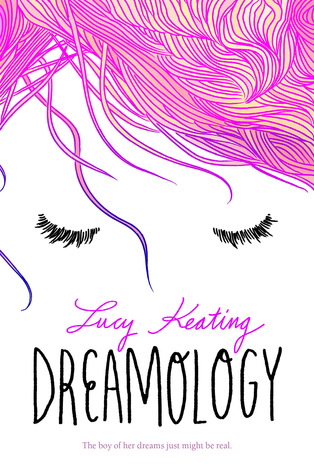 Dreamology by Lucy Keating
Paperback ARC, 322 pages
Published by HarperTeen
Publication Date:
April 12, 2016
Pre-order it:
Amazon
|
Barnes & Noble
|
Book Depository
For as long as Alice can remember, she has dreamed of Max. Together they have traveled the world and fallen deliriously, hopelessly in love. Max is the boy of her dreams—and only her dreams. Because he doesn't exist.

But when Alice walks into class on her first day at a new school, there he is. It turns out, though, that Real Max is nothing like Dream Max, and getting to know each other in reality isn't as perfect as Alice always hoped.

When their dreams start to bleed dangerously into their waking hours, the pair realize that they might have to put an end to a lifetime of dreaming about each other. But when you fall in love in your dreams, can reality ever be enough?

Whimsical, romantic and utterly original, Lucy Keating's debut novel will win readers' hearts.
Dreamology
is one of the most epic love stories I have ever read. And by epic, I mean:
And this:
AND this:
Seriously guys, I was fangirling the ENTIRE time that I was reading this book. It was amazing, beautiful, hilarious, and relatable. It's a contemporary romance with a sci-fi twist that will make you want to read it over and over again. Once I picked it up, I couldn't put it down. The characters are fantastic, the writing is witty and funny, and the development of the plot is extremely well-executed. I highly recommend that ALL of you add this book to your TBR if you haven't done so already. Dreamology is already on my list of best books of 2016.
1) I love the romance in this book. Honestly, my heart went through so much while I was reading. With every flip of the page, my heart was just soaring on an emotional roller-coaster and it was FANTASTIC. The best part of the main couple's romance (and this is me trying really hard not to get spoilery here) is how much they struggle to figure things out and make their relationship work. Nothing about their affection for each other comes without a price and Keating lets you experience all of the ups and downs of their relationship—it's all swoon-worthy.
2) The writing—oh man the writing is just so great. From the prose to the dialogue, it's all phenomenal. Keating's writing style is the perfect amount of wit, sass, and whimsy. At the same time, the writing is very relatable and I found myself having similar thought processes as the main character.
3) I love ALL of the characters. Everyone is so well-rounded and well-developed. Besides the main couple, I adore Oliver and Sophie! These two need their own book . . . not that I'm hinting or anything . . .
4) The parental relationships are really diverse and interesting. Parents aren't often featured in YA books but I really thought they played interesting roles in Dreamology; Alice's relationship with her father was especially moving.
5) Dreamology gets bonus points for taking place in Boston with snippets in New York. I'm a very proud New Yorker and I looooove Boston.
1) Literally, nothing. I'll be reading this book over and over again.
"You know when Egyptian royalty died, they often had loved ones buried with them," I say.

"I think it was just servants actually, so they could be waited on in the afterlife," Max corrects me. Always such a know-it-all.

"Well if I died, I'd have you buried with me." I turn over on my side to face him.

"Oh, babe, thanks," he exclaims. "That is by far the creepiest thing you have ever said to me."
"Okay, people!" We hear a familiar voice shout. Sophie and I peer around the corner and are mortified to find Oliver standing in the middle of the room, holding a beer. "You don't know me. My name is Oliver, and I don't go here. I won't tell you where I go because that would betray my age and I think there is a sixty percent chance of me kissing at least one girl at this party tonight . But you know how that's not going to happen?" He walks over to the stereo and plugs in his iPod, which he has pulled out of pocket. "If this party keeps going the way it's going. So that's all about to change right . . . now." He hits a button and cranks up the volume.

Within seconds, the rhythmic synth of Prince's "Kiss" comes gyrating over the speakers, and it comes on loud. The whole room seems transfixed as Oliver begins to wiggle his shoulders to the music, complete with spins, pelvic thrusts, and lip-synching."
"I can't lose you, Alice," he says again. And then before I can help myself I have leaped across the bed to kiss him and fall into his arms, my legs circling his waist. And he accepts me, his arms coming up around to support my back while his hands grip the base of my head, under my hair.

"I can't lose you," he says for a third time, in a whisper. And I take his face in my hands and push his hair behind his ears as I stroke his jaw with my fingers.

"You will never lose me," I say. "I'm right here." and I kiss him again.
"I can't help but feel that it's rather rude of Jerry to keep barking incessantly in the front hall when some of us have better things to do, like lie in our beds hating everything."
~ ~ ~
You guys have no idea how hard it is to come up with quotes, but to leave out my big, spoilery favorites! I hope you guys enjoyed this review and add Dreamology to your TBRs. Trust me, you need this book.
a Rafflecopter giveaway