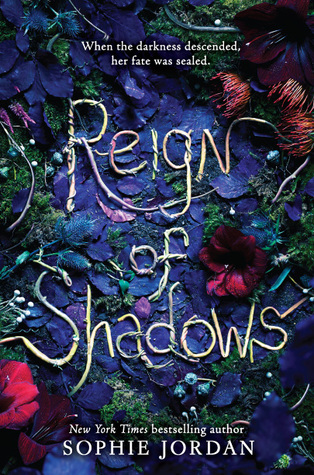 5/5 Stars
Details of the Book
paperback ARC, 292 pages
Published by HarperTeen,
an imprint of HarperCollins Publishers
Synopsis:
Seventeen years ago, an eclipse cloaked the kingdom of Relhok in perpetual darkness. In the chaos, an evil chancellor murdered the king and queen and seized their throne. Luna, Relhok's lost princess, has been hiding in a tower ever since. Luna's survival depends on the world believing she is dead.
But that doesn't stop Luna from wanting more. When she meets Fowler, a mysterious archer braving the woods outside her tower, Luna is drawn to him despite the risk. When the tower is attacked, Luna and Fowler escape together. But this world of darkness is more treacherous than Luna ever realized.
With every threat stacked against them, Luna and Fowler find solace in each other. But with secrets still unspoken between them, falling in love might be their most dangerous journey yet.
Reign of Shadows is a unique twist on the Rapunzel fairytale and it's definitely one of the best fairytale re-imagining/retellings I have ever read! Although my ARC copy is only 292 pages, there is a shocking amount of growth and information packed into it. Reign of Shadows really caught me by surprise in its plot and character development, as well as with its brutality. I was not at all expecting it to be so gruesome, but it really raised the stakes in the plot. Jordan's writing is emotive, and it really paints a clear and complete picture of the setting and the characters. Plus, there are nods to Tangled in it, which I LOVE.
Luna and Fowler are really adorable together! I love their banter and how they both equally depend on one another. I really fell for these two—they are such a beautiful couple.
I predict that Reign of Shadows will be one of the best books of 2016. I highly recommend this book to everyone, and especially to those who has been looking for an AMAZING fairytale re-imagining/retelling with a breathtaking romance—and these are really hard to find!
I have no idea how I'm going to survive waiting for the next book—the ending is insane and makes you question how are you going to survive until the next book.
Strengths/Likes:
1) I really love the world-building in Reign of Shadows. You are given the right amount of details to be completely immersed in the world and to understand the setting. The details are not overwhelming and they make everything easy to imagine.
2) Luna and Fowler are really cute together. Their relationship somehow moves fast and slow at the same time because they struggle with their feelings for one another due to the obstacles they face in the world that they live in. Also . . . let's just say that things get pretty steamy and I like it XD
3) There were a lot of gruesome details that I wasn't prepared for going into this novel, but I felt that they were well-written and made me feel immersed in the setting of the plot. I'm not usually a fan of graphic details, but I think it was completely necessary to take the world in Reign of Shadows seriously.
4) The development of the main characters and their relationships with minor characters were impressive, especially considering the fact that this book is under 300 pages! Jordan manages to cram in a lot of information without sacrificing her writing or the flow of the plot.
Weaknesses/Dislikes:
1) I really think that this book would have benefited from being at least 100 pages longer. Some of the details are a bit rushed because the book is so short. For example, as stated above, I really loved the romance aspects in this book but the relationship moved forward a little faster than I would have preferred. I just wanted more of this book to read.
*SPOILER ALERT: From this point on, read at your own risk!
2) Luna is blind, but at times, the writing made it seem like she was able to see things. Words such as "glance" and "see" were used often enough that I forgot several times that she was blind until I was reminded of it later on. It was sometimes confusing how Luna couldn't do simple things because of her blindness, but was somehow able to do more complicated things despite it.
Favorite Quote/Moments:
1) "Afraid to be left alone with me? I have my clothes on this time."
"Should your naked form frighten me? I can't see you, remember? So I needn't be repulsed."
He laughed at that, and I stopped, quite undone by the low, smoky sound. It rippled over my skin like the stroke of fine ribbon. His laughter stopped abruptly, almost as though it startled him as much as me. When he spoke again, his voice held no hint of that laughter. "Rest easy, I've not sent many females running away screaming before."
2) "She scanned the firelit faces, searching for one, her lips moving, mouthing what I knew was my name in a soundless plea. It was there, wordlessly humming between us. She clung to the feeble hope that I would come. That I would stop all this from happening.
That I would keep my promise.
I shook the bars with impotent fury.
The king finished and silence fell again. The gray deepened to purply black and the fog melted, giving way for night again. I scanned the distant tree line. Dark shadows swelled from the thicket, black, growing claws stretching across the barren land toward her.
My chest hurt. Each breath an agony. She held herself so still. Her gaze trained on the faces watching her. Family. People she'd known all her life. No one to help her.
I'm here. I'm with you. I willed the words to her as though she could hear them."
3) "Whatever it took, whatever words I had to say, I would make her understand that she didn't have to do this. That we could be together in Allu. We would.
"Let her go," Mirelya murmured as though she could read my thoughts. Maybe the old woman could.
I shook my head. "Never."
"She's trying to do the right thing. Let her go."
Swinging my pack over my shoulder, I passed her and headed for the door, calling back, "She can try all she likes to do the right thing. But so will I."
a Rafflecopter giveaway