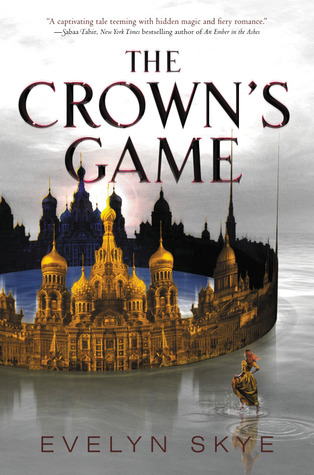 Format: Uncorrected Manuscript, 388 pages
Published by Balzer + Bray
Привет, друзья!
I am here to tell you that you are not prepared for the majesty that is
The Crown's Game
. You need to know that when you look at that cover, you are looking at a FIVE STAR book. There is magic, romance, a complex plot, drool-worthy guys, and Russian prestige. I. LOVE. IT. It's definitely one of the BEST books I've
ever
read, and I mean
—
we're talking Leigh Bardugo levels here, people!
I'm always nervous when I read a book that is set in Russia because often times, the language is incorrect or something is not depicted properly. However as your Russian representative and a member of the Tsar's Guard, I can assure you that Evelyn Skye has executed the Russian culture, language, and mentality
to a T
.
If you get a manuscript or an ARC, please be advised that Evelyn has added on the "a" at the end of the last names of the female characters in the book, but the change was made
after
the ARCs were already printed.
A note about Russian last names:
The endings of surnames are a key not only to a person's nationality but also to their gender. Most Russian surnames change their ending in the feminine: usually the letter "-a" is added at the end (Ivanova, Sorokina), or "-sky" changes into "-skaya (Moskovskaya). However, last names ending in "-ich" and "-ko" are gender-neutral, with the female version not changing its form even when the name is declined (names ending in "-ko", which are particularly common in Ukraine, remain unchanged in all cases, irrespective of whether the person is male or female). Source
Now that our Russian grammar lesson is done for the day, let me get back to telling you how much I love this book.
The Crown's Game
was everything I wanted it to be and more. The entire time I was reading, I was flipping out over every page
—
and we're talking actual shrieking, and jumping up and down. Guys, the book love was
intense
.
The Crown's Game
beyond
exceeded all of my expectations. Everything from the plot, the writing, the characters, and the magic
—
oh my god, the magic! I am in LOVE.
1)
As I've already said, I'm
so
impressed and happy that Evelyn nailed details of Russian culture. She has us described
perfectly—
at our best and at our worst.
2)
I adore Vika. She's independent, badass, powerful, and she has a big heart. She has no problem standing up to authority or asking the hard questions. I loved being inside the head of such a strong and relatable character.
3)
The bromance between Pasha and Nikolai is just precious. I mean, forget female romantic interests, these two should just get married. When they're together, they are just a couple of foolish, adorable boys who care about each other deeply . . . It's just beautiful.