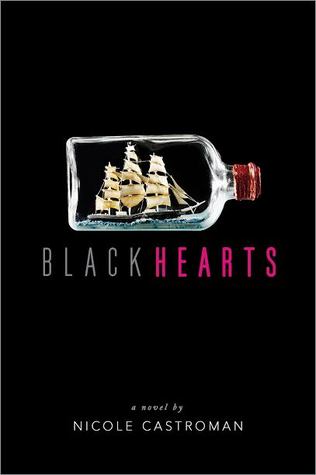 BLACKHEARTS
by Nicole Castroman
Release Date:
February 9, 2016
Pages:
384
Publisher:
Simon Pulse
Formats:
Hardcover, eBook
Find it:
Goodreads
|
Amazon
|
B&N
|
iBooks
Blackbeard the pirate was known for striking fear in the hearts of the bravest of sailors. But once he was just a young man who dreamed of leaving his rigid life behind to chase adventure in faraway lands. Nothing could stop him—until he met the one girl who would change everything.

Edward "Teach" Drummond, son of one of Bristol's richest merchants, has just returned from a year-long journey on the high seas to find his life in shambles. Betrothed to a girl he doesn't love and sick of the high society he was born into, Teach dreams only of returning to the vast ocean he'd begun to call home. There's just one problem: convincing his father to let him leave and never come back.

Following her parents' deaths, Anne Barrett is left penniless and soon to be homeless. Though she's barely worked a day in her life, Anne is forced to take a job as a maid in the home of Master Drummond. Lonely days stretch into weeks, and Anne longs for escape. How will she ever realize her dream of sailing to Curaçao—where her mother was born—when she's stuck in England?

From the moment Teach and Anne meet, they set the world ablaze. Drawn to each other, they're trapped by society and their own circumstances. Faced with an impossible choice, they must decide to chase their dreams and go, or follow their hearts and stay.
For lovers of
Jane Eyre
and other classic literature, you need
Blackhearts
in your life. This pre-swashbuckling tale of Blackbeard gives you an intriguing imagining of what the infamous man was like before his pirating days.
Blackhearts
is filled to the brim with romance and intrigue. I couldn't put down, even when real life responsibilities demanded that I did! This book can stand proud with the best classical literature novels that are out there, and I'm so excited for everyone to read it! It honestly gave me Mr. Rochester and Jane Eyre feels! Beautifully written and filled with great passion and humor,
Blackhearts
ends in a grand finale that has me ready to start a petition for a sequel, and trust me—you'll want to sign it too.
1)
Teach and Anne remind me so much of Mr. Rochester and Jane Eyre!
I love their relationship—there is such spunk and great chemistry between them. They are both a couple of knuckle-heads and from time to time, I did want to shake them, but I ship them so hard. They were always challenging and teaching one another, and their feelings are so tangibly passionate. I enjoyed all of their ups and downs, and they have
definitely
been added to my list of favorite ships.
2)
Castroman's writing is on par with classic novelists such as Charlotte Brontë, Jane Austen, Alexander Dumas, and Gaston Leroux. Her words transported me back through time and made me feel fully immersed in the setting, characters, and the plot—it was marvelous.
3)
There are so many different types of characters in
Blackhearts.
Each has their own distinct voice and background—including the minor characters. My favorite side character would have to be Teach's best friend John. He's a steadfast friend
and
he's funny.
4)
All of the backgrounds of the characters are tied together and woven into the plot. Details that at first appear inconsequential are actually important to the main story, and I really enjoyed how all of it came together and moved the book forward.
5)
This book ends with a grand sense of adventure that has me dying to get my hands on the sequel. I don't know how I'm going to handle waiting!
6)
Also.. meet Teach ;) You're welcome.
1)
At times, I found the plot to be a bit predictable. I wanted a little more mystery.
"I want to know how you've made it this far with that tongue in your head. You don't speak like a common maid, and you certainly don't act like one. I intended to give you a good tongue-lashing, yet I find myself on the defensive where you're concerned. Why is that?"

"Perhaps you are too used to people bowing in your believed superiority, and don't understand when your presence is not desired."

"Believed superiority? Good Lord, you almost act as if you were the lady of the house and I were no more than a common footman."
"If I'm going to die, I might as well die a happy man. Tell me," he said, his voice soft.

Her lashes half lowered over her crystal-blue eyes. "In the short time we've known each other, I've come to bear a certain . . . regard . . . for you. Your friendship is something I could not stand to part with."

"Regard? Friendship?" He approached her once again, and his warm palm found the curve of her cheek. "Is that all you feel for me, Anne?"
"You're just upset about the inquiry. You're frightened—"

"Yes, I'm frightened, but the inquiry is only part of it. If I come out of this alive, as you so firmly believe I will, what will my future hold? I refuse to wed someone whose most pressing thoughts are about the color of her gown or what sandwiches she should serve for tea. I want a life, a partnership, with someone who has the same interests as I do. I want to share something with someone that is greater and more important than table settings and dinner parties. I want to spend my life with you."
a Rafflecopter giveaway