Queen of Hearts by Colleen Oakes
Paperback ARC, 316 pages
Published by HarperTeen
Publication Date:
May 3rd, 2016
Buy it:
Amazon
|
B&N
|
Book Depository
As Princess of Wonderland Palace and the future Queen of Hearts, Dinah's days are an endless monotony of tea, tarts, and a stream of vicious humiliations at the hands of her father, the King of Hearts. The only highlight of her days is visiting Wardley, her childhood best friend, the future Knave of Hearts — and the love of her life.

When an enchanting stranger arrives at the Palace, Dinah watches as everything she's ever wanted threatens to crumble. As her coronation date approaches, a series of suspicious and bloody events suggests that something sinister stirs in the whimsical halls of Wonderland. It's up to Dinah to unravel the mysteries that lurk both inside and under the Palace before she loses her own head to a clever and faceless foe.

Part epic fantasy, part twisted fairy tale, this dazzling saga will have readers shivering as Dinah's furious nature sweeps Wonderland up in the maelstrom of her wrath.

Familiar characters such as Cheshire, the White Rabbit, and the Mad Hatter make their appearance, enchanting readers with this new, dark take on Alice's Adventures in Wonderland.
Going into
Queen of Hearts,
I had high expectations. There is so much potential, so much to work with if you're writing an
Alice in Wonderland
retelling. I was especially excited because it was from the POV of the Queen of Hearts herself, and I was expecting a badass female character that rivaled Cersei Lannister. I also expected quirky side characters and a really colorful plot. Alas, I didn't get
any
of these things. In fact, I spent most of the book waiting for something to happen.
And nothing did! There were a lot of little things going on throughout the plot, such as Dinah's abusive relationship with her father—The King of Hearts, plus the story's one-sided romance, and a dark secret within the castle itself. And yet, I was not given any concrete details to understand
any
of these things. They were just . . .
there
. I had no idea which details were significant and which were not. By the time I reached the really dramatic end, I simply didn't care, and I was
happy
that I was done with this book.
All of the characters were so bland. There were several scenes where Dinah and her father got into altercations, and I think they were supposed to be really dramatic and scary, but this was me:
In general, I didn't connect or understand Dinah at all. I wanted her to do something about her circumstances. I wanted her to fight, and really I wanted her to show some kind of depth of feeling—but I got nothing! She just sat around and waited for things to happen to her.
I would have been fine with Dinah not being a powerhouse woman, but I just didn't understand her at all. She was so wishy-washy, and I couldn't figure what exactly she wanted in her life other than the crown, though she did nothing to help herself in that case either.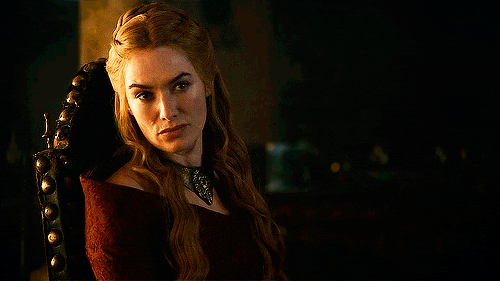 Also, Dinah's relationships and/or feelings towards the other characters made no sense. Why does she like this person? Why does she hate this person? Why doesn't she just punch this person in the face? I DON'T KNOW, which generally was the running theme throughout this entire book.
Obviously, this book just wasn't for me, but I'm curious about what others will think of it. Have you guys read it? What did you think? Let me know!