My TBR list is always growing and I thought it would be fun to share my anticipation for those books with all of you. This is not my own original meme; it belongs to Breaking the Spine. It specifically spotlights upcoming releases. As it implies in the title, I'll be posting this meme on Wednesdays. Please feel free to comment and let me know what books you guys are waiting on as well!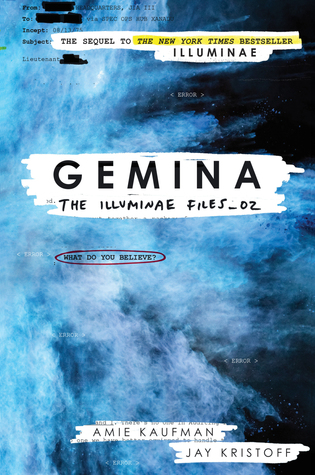 Gemina
by Amie Kaufman & Jay Kristoff
Published by Knopf Books for Young Readers
Expected Publication Date:
October 18, 2016
Pre-Order:
Amazon
|
B&N
|
Book Depository
Moving to a space station at the edge of the galaxy was always going to be the death of Hanna's social life. Nobody said it might actually get her killed.

Hanna Donnelly is the station captain's pampered daughter; Nik Malikov the reluctant member of a notorious crime family. But while the pair are struggling with the realities of life aboard the galaxy's most boring space station, little do they know that Kady Grant and the Hypatia are headed right toward Heimdall, carrying news of the Kerenza invasion.


When an elite BeiTech strike team invades the station, Hanna and Nik are thrown together to defend their home. But alien predators are picking off the station residents one by one, and a malfunction in the station's wormhole means the space-time continuum might be ripped in two before dinner. Soon Hanna and Nik aren't just fighting for their own surivival; the fate of everyone on the Hypatia—and possibly the known universe—is in their hands.

But relax. They've totally got this. They hope.
To say that I'm excited for Gemina is an understatement. I absolutely loved Illuminae and read it in one sitting, so I know that this one is going to be just as incredible! I'm looking forward to an intense story told in a mind-boggling format. Plus, I can't wait for more Kady and Ezra <3
Amie Kaufman is the New York Times bestselling co-author of Illuminae (with Jay Kristoff) and These Broken Stars, This Shattered World, and Their Fractured Light (with Meagan Spooner.) She writes science fiction and fantasy for teens, and her favourite procrastination techniques involve chocolate, baking, sailing, excellent books and TV, plotting and executing overseas travel, and napping.

She lives in Melbourne, Australia with her husband, their rescue dog, and her considerable library. She is represented by Tracey Adams of Adams Literary.
Connect with Amie: Website | Goodreads | Twitter | FB | Instagram | Tumblr | Pinterest
Jay Kristoff is the New York Times and internationally bestselling author of THE LOTUS WAR, THE ILLUMINAE FILES and THE NEVERNIGHT CHRONICLE. He is a winner of the Aurealis Award, nominee for the David Gemmell Morningstar and Legend awards, named in the Kirkus and Amazon Best Teen Books list and published in over twenty countries, most of which he has never visited. Being the holder of an arts degree, he has no education to speak of. He is 6'7 and has approximately 13030 days to live. He abides in Melbourne with his secret agent kung-fu assassin wife, and the world's laziest Jack Russell.

He does not believe in happy endings.
Connect with Jay: Website | Goodreads | Twitter | Facebook | Instagram