Brittany: Hi guys! I'm back with the 2016 YA Debut Authors Bash with another awesome author, Kerri Mansicalco!
Kerri Maniscalco grew up in a small town just outside of New York City where her love of the arts was fostered from an early age. In her spare time she reads everything she can get her hands on, cooks all kinds of food with her family and friends, and drinks entirely too much tea while discussing life's finer points with her cats.
STALKING JACK THE RIPPER, her debut YA gothic horror, is coming September 20, 2016 from JIMMY Patterson/Little, Brown. It's the first in a new series and incorporates her love of forensic science and unsolved history.
Connect with Kerri: Twitter | Facebook | Instagram | Website | Tumblr | Pinterest
Brittany: Hi Kerri! Thank you for doing this interview with me! <3
Kerri:
Hi Brittany! Thank YOU for interviewing me :D
Brittany: Could you share what your writing process is like? Do you outline? Do you just write and see where your mind takes you to? Do you have a specific routine or things you need in order to write?
Kerri:
Usually I like to come up with a small blurb, kind of like what you see on the back of a book, and then let my muse take me from there. With
Stalking Jack the Ripper
, I immediately knew who my villain was going to be and how I wanted it to end, but allowed myself the freedom of how to connect the dots. I was also able to use the historical timeline of events from the murders, so it was interesting filling in the blanks between the crimes.
Brittany: What made you interested in Jack the Ripper?
Kerri:
I've always been intrigued by the psychology behind serial killers, and forensics was a field I considered in college. The Ripper case was so interesting because it was one of the first times in history where forensics were applied and used widely. And the mystery? Goodness. The mystery that still lingers around it today is something that just BEGS to be explored more. "What if?" is like creative catnip to a writer. Once I'd figured out that I wanted to write a Victorian Era CSI with a strong female lead, there was really only one case for her to become embroiled in.
Brittany: What is the scariest or creepiest thing you've ever done for fun?
Kerri:
Oh my gosh. I've got a hefty list. But I think the scariest thing I've ever done for fun was go to the Headless Horseman Hayride when they had a killer clown theme. I am TERRIFIED of clowns and as we were coming toward the end of the hayride, a bunch of chainsaw-wielding clowns jumped out and "attacked" our group. (There were no chains on the chainsaw, but they were loud and scary and smelled like gasoline and terror. I seriously wanted to DIE when the killer clown brought it down on my leg.)
Brittany: What are some of your pet peeves?
Kerri:
Hahah oh man. These are embarrassing. I usually take a deep breath when I see people tossing around insults on the interwebs and they use the wrong your/you're, or there/they're/their. It takes most of my willpower to not be the one who points out "you're* being a jerk." Also, whenever I see text shorthand or no punctuation I kinda cringe.
Brittany: What is your favorite non-spoilery quote or scene from your book?
Kerri:
One of my very favorite quotes comes in chapter one. It's at the end of the closing scene and my main character, Audrey Rose, promises her uncle that she'll be as silent as the dead when attending his forensic class in disguise the next morning. His response is:
"Ah," Uncle said, putting a hat on and tugging it low, "the dead speak to those who listen. Be quieter than even them."
It's such a true statement coming from this forensic professor/medical examiner, and it's delightfully creepy and wonderful at once. I think it really captures the essence of SJTR.
Brittany: Who was your first OTP?
Kerri:
My first? Hmmm. This is hard because I ship so many characters now. Sherlock and Watson were my first one true pairing for friendship. As for first romantic pairings? That will forever be Romeo and Juliet. (Followed closely by Elizabeth Bennett and Mr. Darcy.) I am clearly awful with sticking to the first one…
Brittany: What would automatically make you stop reading a book?
Kerri:
This is really tough because I don't think there's a book that I've DNF'd. I'm an eternal optimist who keeps going with the hope that it'll get better in the next chapter. However, if I ever came across a rape scene used solely as a plot device or reason for a young woman (or any woman or man) to start kicking ass, I'd probably stop reading. To geek-out for a second on The Force Awakens, one of the reasons Rey was such an amazing character was because she was simply good at being a mechanic, and she didn't apologize for her skills. I like seeing female characters who are empowered to just be themselves and live authentically.
Brittany: What is one material possession you could not live without no matter what?
Kerri:
I'm going to cheat here and say my mother's Nancy Drew set. My grandmother was very, very poor, but with each paycheck she'd put pennies away and slowly add Nancy Drew stories to her collection for my mom every month. Without my grandmother's love of reading—she even used to read to my mom while she was pregnant with her—I would not be who I am today. Knowing how hard she worked just to bring these stories into our lives, I could never live without those beautiful, tattered, used books. They mean more to me than all the money in the universe.
Brittany: What are some of your favorite hobbies?
Kerri:
I come from a long line of family members who enjoy cooking. My grandmother, my uncles, my mom, the list goes on. When I'm not writing, I'm usually in the kitchen with my family or friends. I love the whole creative process of coming up with something fun and different. And beautiful! We eat with our eyes as much as our mouths, so I really enjoy making food look good too. I'm also really into music. I used to write about live shows when I still lived in New York, and I've always got some album on when I'm not working. I don't get to go as much, but when I have downtime I try and get out to see live shows.
Brittany: Which fictional character (not from your own book) do you identify with the most? The character could be from a book, TV Show, Movie, Comic, etc.
Kerri:
Great question! I think that I'd have to say that I identify with Jo March the most. (And my family would likely agree.) We'd be the very best of friends and have lots of things to discuss from time spent writing plays when we were younger, to our fierce belief in maintaining our individuality throughout our lives.
Brittany: Thank you again, Kerri, for doing this interview with me and being on the blog today!
I hope all of you enjoyed this post. Be sure to check out Kerri's amazing debut novel, Stalking Jack the Ripper!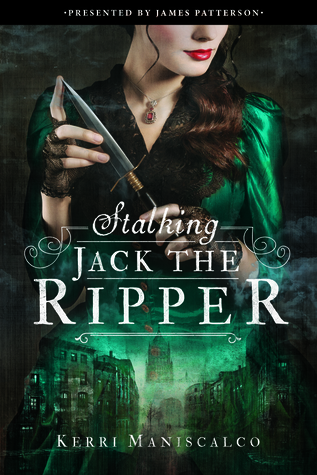 Stalking Jack the Ripper by Kerri Mansicalco
Publisher: Jimmy Patterson/Little, Brown & Co.
Publication Date:
Sept. 20th, 2016
Buy it:
Amazon
|
B&N
|
Book Depository
|
IndieBound
Presented by James Patterson's new children's imprint, this deliciously creepy horror novel has a storyline inspired by the Ripper murders and an unexpected, blood-chilling conclusion...

Seventeen-year-old Audrey Rose Wadsworth was born a lord's daughter, with a life of wealth and privilege stretched out before her. But between the social teas and silk dress fittings, she leads a forbidden secret life.

Against her stern father's wishes and society's expectations, Audrey often slips away to her uncle's laboratory to study the gruesome practice of forensic medicine. When her work on a string of savagely killed corpses drags Audrey into the investigation of a serial murderer, her search for answers brings her close to her own sheltered world.

The story's shocking twists and turns, augmented with real, sinister period photos, will make this dazzling debut from author Kerri Maniscalco impossible to forget.
a Rafflecopter giveaway