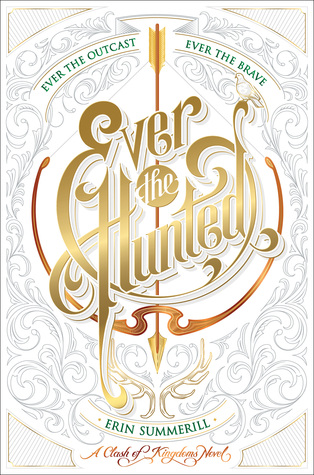 Ever the Hunted by Erin Summerill
Publisher: Houghton Mifflin Harcourt
Pub. Date:
December 27th, 2016
Buy it:
Amazon
|
B&N
|
Book Depository
Seventeen year-old Britta Flannery is at ease only in the woods with her dagger and bow. She spends her days tracking criminals alongside her father, the legendary bounty hunter for the King of Malam—that is, until her father is murdered. Now outcast and alone and having no rights to her father's land or inheritance, she seeks refuge where she feels most safe: the Ever Woods. When Britta is caught poaching by the royal guard, instead of facing the noose she is offered a deal: her freedom in exchange for her father's killer.

However, it's not so simple.

The alleged killer is none other than Cohen McKay, her father's former apprentice. The only friend she's ever known. The boy she once loved who broke her heart. She must go on a dangerous quest in a world of warring kingdoms, mad kings, and dark magic to find the real killer. But Britta wields more power than she knows. And soon she will learn what has always made her different will make her a daunting and dangerous force.
Ever the Hunted
is a charming and adventurous story with a sweet romance. Erin's writing is truly enchanting. She cast me under her spell of her beautiful, sweeping imagery and lively dialogue. I was
so
incredibly happy while reading that my cheeks hurt from smiling.
Although plot-wise, there isn't a
ton
of action and it's sometimes predictable,
Ever the Hunted
is wonderfully executed, especially given the fact that in my opinion, it's really more of a character-driven book. Britta and Cohen's relationship—although complicated—is undeniably the core of the story. It also doesn't hurt that I happen to adore both characters.
Ever the Hunted
is a story that's laced with sorrow and betrayal, all of which is fantastically balanced out with an adorable romance and a rich setting. And that ending?! My god, I cannot wait to see what Erin has in store for us in the sequel!
1)
Erin's writing style hooked me instantly. Her prose is whimsical and beautiful, the voices of her characters are incredibly distinct, and the dialogue is witty and beguiling. Her words truly inspired me and made me want to work harder on my own storytelling and dialogue.
2)
Britta is awesome. This is a girl that the world has turned its back on, but she's a fighter. Literally every aspect of her life is the worst case scenario. Everything she loves is taken from her, but she still goes on, keeps pushing, and doesn't quit, no matter how bleak and impossible a situation seems to be—and I greatly admire that about her.
3)
The world-building is wonderful and enchanting! The setting is so dazzling and picturesque—every visceral description feels tangible and real. How I wish I could jump into this book and see it for myself.
There is actually a scene in this gorgeously magical-sounding forest that seems like something out of a Studio Ghibli film! (UM? YES PLS.)
4)
Britta and Cohen are SO. Freaking. Adorable. There were some times where I really wanted to bang their heads together, and other times where I just wanted to squish them and pinch their cheeks. Their chemistry gave me goosebumps and their banter made me laugh—repeatedly. What's especially incredible about these two is that you only get Britta's POV, but I still feel like I know both of them really well, and I am beyond words invested in their relationship!
1)
I found certain aspects of the plot to be a little predictable. I knew who the villain relatively quickly, though the rest of the positive aspects of the book made up for this. Though I
do
wonder if the villain was deliberately predictable in order to draw the reader's attention away from other things? I guess we'll find out in book two! ^_^