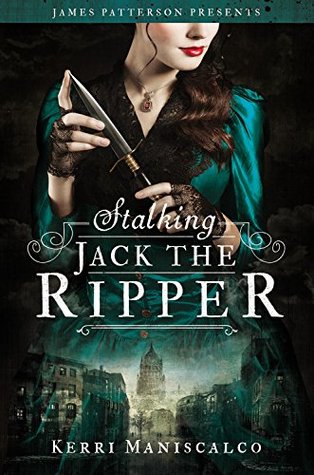 Stalking Jack the Ripper by Kerri Maniscalco
Format: Paperback ARC, 325 pages
Publisher: Jimmy Patterson/Hachette Book Group
Buy it:
Amazon
|
B&N
|
Book Depository
Seventeen-year-old Audrey Rose Wadsworth was born a lord's daughter, with a life of wealth and privilege stretched out before her. But between the social teas and silk dress fittings, she leads a forbidden secret life.

Against her stern father's wishes and society's expectations, Audrey often slips away to her uncle's laboratory to study the gruesome practice of forensic medicine. When her work on a string of savagely killed corpses drags Audrey into the investigation of a serial murderer, her search for answers brings her close to her own sheltered world.
You guys, I honestly can't even think about
Stalking Jack the Ripper
without feeling giddy. When I first heard of this book, I wasn't sure how I would feel while reading it because I'm extremely squeamish. I thought that perhaps I'd be too much of a scaredy cat to handle all of the gory details. However, to my great pleasure and surprise, I was able to stomach the gruesome parts, though at times, it
was
difficult since they truly are masterfully written and incredibly detailed. Kerri Maniscalco is so talented! I could really go on and on about how much I adore this book—grisly details and all.
Stalking Jack the Ripper
is a Sherlock Holmes inspired-story. It follows our leading lady, Audrey Wadsworth (*cough*Watson*cough*) and her love interest—Thomas—who has amazing deductive skills, is insanely swoony, and has a know-it-all personality. Together, they are
so
freaking cute—I simply cannot get enough of them.
My favorite thing about this book is how much female empowerment there is! It totally shatters the accepted gender roles in Victorian London, and the women in this story are absolutely marvelous and inspiring.
This
is easily one of the best books of 2016, so if you haven't read it yet, you need to remedy this immediately. Trust me, you won't regret it!

1)
Kerri's writing is nothing short of brilliant. It's well rounded, fantastically descriptive, and incredibly—it truly feels and reads like something that belongs in the Victorian Era. Witty and compelling, her words will mesmerize you and make it impossible to stop reading.
2)
Audrey Rose, oh how I adore thee. Smart, feisty, witty—I could go and on (and on, and on...) about this girl. To me, the most brilliant and relate-able aspect of her character is how much she struggles with wanting to be able to pursue a criminal career, which in Victorian London is solely an occupation for men. However at the same time. she also enjoys doing her make-up, wearing dresses, and being girly—all the while still preferring to have the option to wear pants. Wanting the same opportunities as men and fighting for them, while still embracing her femininity and breaking gender roles are just a few of the things that make Audrey Rose a phenomenal role model for young girls to read about.
3)
Speaking of Thomas . . . if Audrey ever decides that she doesn't want him, I'll gladly take him off her hands. The man is a
little
socially awkward BUT that doesn't take away from how dreamy he is. Intelligence is sexy, people!
4)
I love how gender roles and feminism is tackled and addressed in this book. As I mentioned before, I love Audrey, and one of her struggles is that she
does
love dresses and make-up, but would like to be taken as seriously as a man, and to be able to practice medicine. She's amazing.
1)
SPOILER ALERT:
I'm a little annoyed with Thomas' entry in the climax of the book. If he supposedly figured out who the bad guy was at the end, why did he not intervene sooner? I know I'm nitpicking at this point but it's literally the only thing that irked me about this book.