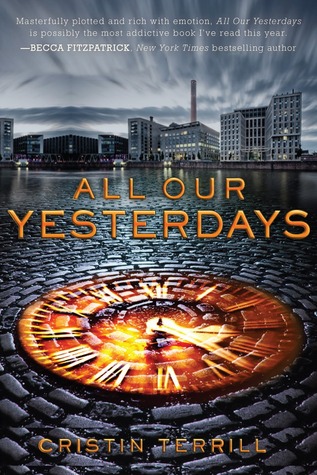 All Our Yesterdays by Cristin Terrill
Format Read:
Audiobook
Narrated by
Meredith Mitchell
Print Publisher:
Disney-Hyperion
Audiobook Publisher:
Tantor Audio
Pub. Date:
August 1st, 2013
Buy Links:
Amazon
|
Barnes and Noble
|
Book Depository
Imprisoned in the heart of a secret military base, Em has nothing except the voice of the boy in the cell next door and the list of instructions she finds taped inside the drain.




Only Em can complete the final instruction. She's tried everything to prevent the creation of a time machine that will tear the world apart. She holds the proof: a list she has never seen before, written in her own hand. Each failed attempt in the past has led her to the same terrible present- imprisoned and tortured by a sadistic man called the doctor while war rages outside.




Marina has loved her best friend, James, since they were children. A gorgeous, introverted science prodigy from one of America's most famous families, James finally seems to be seeing Marina in a new way, too. But on one disastrous night, James's life crumbles apart, and with it, Marina's hopes for their future. Marina will protect James, no matter what. Even if it means opening her eyes to a truth so terrible that she may not survive it . . . at least, not as the girl she once was. Em and Marina are in a race against time only one of them can win.




All Our Yesterdays is a wrenching, brilliantly plotted story of fierce love, unthinkable sacrifice, and the infinite implications of our every choice.
I have been in a bit of a reading slump for a few months now and though I have still been forcing myself to read a little here and there to try to get me out of it, that wasn't really helping. That is, until I listened to the audiobook of All Our Yesterdays. I have actually been wanting to read this book for years! Back when I was a baby blogger years ago, it was one of the books I first summoned up the courage and requested. I didn't get it back then, so I went forward with the books I did get approved for and put this one on my back-list. Oh, what a mistake that was.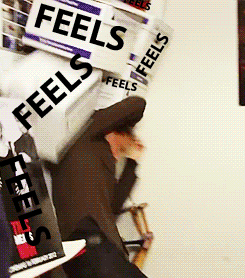 All Our Yesterdays is a brutally honest story about facing your past, and how each choice shapes your future. Terrill really explores the ramifications of each decision a person makes, and how even when intentions are good, it doesn't necessarily mean the outcome will be. This book is dark and emotional and bittersweet and I truly adored every minute of it.
If like me, you held off on this book—YOU STOP THAT. Trust me, you're missing out on a masterpiece.
Meredith Mitchell deserves a round of applause for this audiobook because she was absolutely phenomenal. She gave every character their own unique voice and tone. It was so easy to know which character was speaking. Mitchell brought the whole book to life so skillfully that now I want to listen to every single audiobook she has ever recorded—including ones where I was not initially interested in the book itself.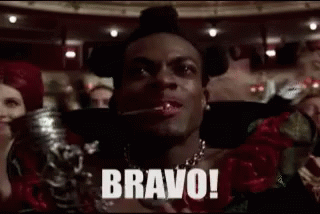 1) This is a heavily character-driven book, so each of the characters—including the minor ones—are incredibly well-developed. Even for side-characters, you get a great sense of who each person is, what they sound like, and how they think. For the main characters, you get an intense look into each of their personalities, quirks, pasts—everything. Additionally, there are no innocent characters in this book, and that is part of what makes them so relatable and lovable—even in those moments when they're being nonsensical or villainous. Terrill really wants you to see how flawed each of the characters are. This is accomplished in such a skillfully transcendent manner that you feel like these are real people, and it's just breathtaking—literally.
2) When it comes to time-travel novels, I often spot a lot of holes in the plot. I find myself asking a lot, "why didn't X just go back a couple more seconds and stop Y from happening?" But for each of those moments here, there is an explanation for it. This book gets extra applause for a superbly executed plot.
3) Oh my god, you guys, where do I even begin with the writing in this book? It's seemingly effortless and charming, without being extremely complicated or pretentious. Terrill knows the most effective and emotionally evocative way to chip away at your soul with her writing.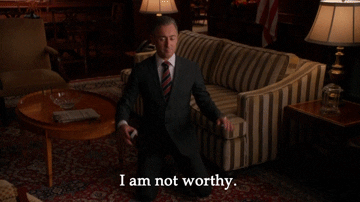 4) This is the perfect thriller for readers who are scaredy-cats like me. Without being too bloody or "horror-like", this book kept me firmly at the edge of my seat the whole time. My heart felt like it was in my throat, my palms were sweating, and I was just a huge mess of jumbled emotions and feels. It was perfect.
But progress is always dangerous, isn't it? Most of the time, walls don't get dismantled brick by brick. Someone has to crash through them.
It's always been you and me, James. That's why I can't kill you, and you can't kill me. Because even if it means the end of the world, I love you too much.
His expression is an open book to me, because I took the time to learn the language many years ago.
The doctor's most powerful weapon has always been his particular brand of brutal honesty. Bruises fade, but words like that fester.