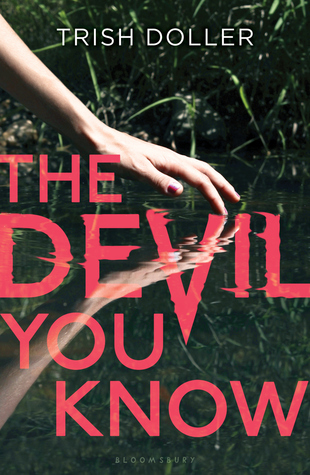 3.5/5 Stars
Details of the Book
eARC, 256 pages
Published by Bloomsbury USA Children's
Publication Date: June 2, 2015
Synopsis:
Eighteen-year-old Arcadia wants adventure. Living in a tiny Florida town with her dad and four-year-old brother, Cadie spends most of her time working, going to school, and taking care of her family. So when she meets two handsome cousins at a campfire party, she finally has a chance for fun. They invite her and friend to join them on a road trip, and it's just the risk she's been craving-the opportunity to escape. But what starts out as a fun, sexy journey quickly becomes dangerous when she discovers that one of them is not at all who he claims to be. One of them has deadly intentions.
A road trip fling turns terrifying in this contemporary story that will keep readers on the edge of their seats.
Man,
this book was
hot.
I mean,
jeez
, it was smokin'. One of my favorite reviewers
Wendy Darling
said in her review of it,
"You'll wanna grab somebody and make out with them while you're reading this, except you'd have to put down the book."
And she was so,
so
right. I did have a problem with the love interest giving Cadie a hard time for saying no to sex. He does respect her wishes but his reaction still didn't sit with me right. This made it hard for me to fully buy into their relationship initially but in the end I did. As for the thriller parts of the book, it was pretty intense. It seems like it's easy to figure out the culprit from the beginning but I was caught by surprise. Thrillers are not really my type but this was a good one. If I had to sum up this book in a three words I'd say: sexy, intense, and
chilling
.
Strengths/Likes:
1) As I said, this book was hot. This is definitely not a book for kids. Although the sexy moments had bits of sweetness, it wasn't first-time fairy-tale sweet. It's not romance-novel smut either. It's just hot, plain and simple.
2) I really liked Cadie's backstory with her family and friends. Not only were the characters great, I felt that the reader wasn't overwhelmed with details. They were sewn seamlessly into the plot and into Cadie's character.
3) The writing itself was great. I felt that Doller really captured the voice of Cadie and executed her plot fantastically. The writing isn't overly-complicated or whimsical. It leads you right into Cadie's head and makes it easy to fill her shoes.
Weaknesses/Dislikes:
*WARNING* THERE WILL BE A LOT OF SPOILERS FROM HEREON. READ AT YOUR OWN RISK.
1) There were times where I had trouble liking Noah. This is because when he tries to get Cadie into bed I felt that he was pretty forceful and didn't like getting the answer no. Who likes hearing no when you're into it? No one, I know but it still seemed that Noah was pushing the boundaries more than I'd like. Don't get me wrong, he did respect Cadie's wishes but it still rubbed me the wrong way.
2) I don't quite understand how everything is wrapped up in the end. Noah apparently lives in Montana while Cadie is in Florida but they are going to somehow work out being together? And why did they not speak for a year? They just went through a traumatic adventure together, something the only two of them could understand but they didn't speak? After all of their spark, I needed more than that. I also wish that there were more details about Cadie and Noah dealing with the authorities.
3) I said that this book was hot, but did the sex scene have to take place in a graveyard? That was a bit too much for me.
Favorite Quotes/Moments:
1) "I do not miss him. Not at all. But I miss having someone to lie with on the big moss-covered log beside the river just talking about nothing. Or not talking. I miss the feel of his warm hands on my bare skin under the tree-speckled sunshine. I miss his mouth on mine until our lips are swollen and raw. His dark-blue eyes meet mine over the top of his new girlfriend's head, and I'm lying. I miss all of that so much it hurts."
2) "I tie on the owlprint apron Mom and I made together when she first taught me how to sew. She wore it whenever she cooked, even if she was doing something as simple as tearing open a packet of macaroni and cheese-powder. Mom was special that way and, well...it sounds a little silly, but whenever I wear the apron I feel as if her arms are around me. Holding me together."
3) "Where are you?" he asks.
"About to climb out my bedroom window."
He laughs. "I'll be right over."
4) "I lift my chin and take on the bravest, most arrogant tone I can manage. And, really, I don't have to dig too deep into my own emotional well to find anger. If I'm going to die, I'd rather be pissed off about it."