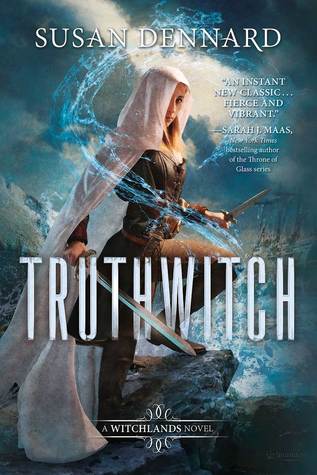 2.5/5 Stars
Details of the Book
paperback ARC, 412 pages
Published by Tor Teen
Expected Publication Date: January 5, 2016
Synposis:
On a continent ruled by three empires, some are born with a "witchery", a magical skill that sets them apart from others.
In the Witchlands, there are almost as many types of magic as there are ways to get in trouble—as two desperate young women know all too well.
Safiya is a Truthwitch, able to discern truth from lie. It's a powerful magic that many would kill to have on their side, especially amongst the nobility to which Safi was born. So Safi must keep her gift hidden, lest she be used as a pawn in the struggle between empires.
Iseult, a Threadwitch, can see the invisible ties that bind and entangle the lives around her—but she cannot see the bonds that touch her own heart. Her unlikely friendship with Safi has taken her from life as an outcast into one of reckless adventure, where she is a cool, wary balance to Safi's hotheaded impulsiveness.
Safi and Iseult just want to be free to live their own lives, but war is coming to the Witchlands. With the help of the cunning Prince Merik (a Windwitch and ship's captain) and the hindrance of a Bloodwitch bent on revenge, the friends must fight emperors, princes, and mercenaries alike, who will stop at nothing to get their hands on a Truthwitch.
It took me a while to get into this book, I think my expectations of it were unfairly high. The beginning really confused me because the reader is thrust into this chaotic world as if we should already understand how it all works.
Truthwitch
reads more like a sequel than it does a first book in a trilogy in this way. It
is told from four POVs and three of them sound very similar which contributed a lot to my confusion. I found it difficult to figure out whose head I was in. In addition, the big reveal could be spotted in the beginning of the book so I didn't feel any suspense leading up to it.
That being said, I did end up liking it. It had unique fantastical concepts and creatures, the plot consists of a lot action and adventure, and the dialogue was witty. It has made me curious about Dennard's other books that are popular among YA readers. I can't say I'm in love with Truthwitch but I am intrigued. If you liked the The Orphan Queen by Jodi Meadows, I would definitely recommend this book to you. Not because the plots are similar but because they have similar plot devices and relationships.
Strengths/Likes:
1) I really like Aeduan. I think he is the most complex character in this book and I want to learn more about him.
2) As I said, there is some nice dialogue. I wish there was more of it. It's not secret that I like biting wit.
3) There is a whole lot of action happening in this book. The characters are never just wandering around trying to figure things out. It was clear that their situation was dire and I felt their adrenaline.
Weaknesses/Dislikes:
1) Iseult and Safi's voice and minds sound pretty similar. I think this was the main reason I was so confused in the beginning. Especially when they are in a scene together. I had to reread some passages to try to make sense over who was talking/thinking.
2) I didn't feel the romance. I could tell right away who the couples were going to be but there wasn't enough magic for me.
3) As I said before this book reads more like a sequel. The explanations and descriptions behind the foundations of the world and the relationships that are there at the start of the book is pretty scarce. It gives you a bunch of terms, classes of witches, but with little explanation. While reading you feel as if you should know and understand these aspects but you're not given enough information. It was only after I read the entire book that I could properly explain the different classes of witchery.
4) I found the big climatic reveal was pretty easy to figure out. It was given away pretty early on in the book.
Favorite Quotes/Moments:
1) Merik ignored her, and with a free hand, he yanked a cloth from his coat and wiped down his engraved scabbard. "On this ship, my word is law, Domna. Do you understand? Your title means nothing here."
Safi nodded and fought the overwhelming urge to roll her eyes.
"But I am willing to offer you a deal. I won't lock you in chains if you promise to stop behaving like a feral dog and instead behave like the domna you're supposed to be."
"But Prince"--she lowered her eyelids in an indolent blink--"my title means nothing here."
2) "Do you know how many men onboard would kill for the use of a spoon?"
"And do you," she retorted, "know how many men I can kill with a spoon?"
3) "Merik, will you see that she's taken care of?" She glanced at her nephew--who was already aiming for the doorway.
"It's Admiral Nihar," the prince corrected. "At least while we're at sea, Aunt Evrane."
"Is that so?" The monk asked calmly. "In that case, it is Monk Evrane. At least while we are at sea."