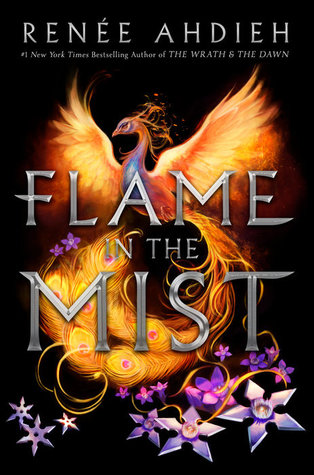 Format: Paperback ARC, 392 pages
Publisher: G.P. Putnam's Sons BFYR/Penguin Random House
Pub. Date: May 16th, 2017
The daughter of a prominent samurai, Mariko has long known her place—she may be an accomplished alchemist, whose cunning rivals that of her brother Kenshin, but because she is not a boy, her future has always been out of her hands. At just seventeen years old, Mariko is promised to Minamoto Raiden, the son of the emperor's favorite consort—a political marriage that will elevate her family's standing. But en route to the imperial city of Inako, Mariko narrowly escapes a bloody ambush by a dangerous gang of bandits known as the Black Clan, who she learns has been hired to kill her before she reaches the palace.

Dressed as a peasant boy, Mariko sets out to infiltrate the ranks of the Black Clan, determined to track down the person responsible for the target on her back. But she's quickly captured and taken to the Black Clan's secret hideout, where she meets their leader, the rebel ronin Takeda Ranmaru, and his second-in-command, his best friend Okami. Still believing her to be a boy, Ranmaru and Okami eventually warm to Mariko, impressed by her intellect and ingenuity. As Mariko gets closer to the Black Clan, she uncovers a dark history of secrets, of betrayal and murder, which will force her to question everything she's ever known.
Renée Ahdieh is the author of the #1 New York Times bestselling The Wrath and the Dawn and The Rose and the Dagger. In her spare time, she likes to dance salsa and collect shoes. She is passionate about all kinds of curry, rescue dogs, and college basketball. The first few years of her life were spent in a high-rise in South Korea; consequently, Renée enjoys having her head in the clouds. She lives in Charlotte, North Carolina, with her husband and their tiny overlord of a dog.
Connect with Renée: Website | Twitter | Instagram | FB | Pinterest
1)
This book is so extremely well-researched. I knew that it would be because Renée Ahdieh has expressed how important research is to her when writing books, but it really stood out to me here. I have been obsessed with Japanese culture for as long as I can remember, and this book incorporates so many of the things I love about it. I was especially impressed with all of the Japanese words, terms, and honorifics that she put into the story in such an organic and effortless manner. All in all, Renée she elegantly captured the culture and aesthetic of Japan's feudal era.
2)
I loooove Ōkami. He definitely stood out amongst all of the Black Clan, and I was incredibly interested in his past, his personality, and his intriguing powers. His character had so much depth that we could have ten books focused solely on him, and he'd
still
have plenty of secrets to share.
3)
If you're a fan of the anime
Inuyasha,
like I am, then I think you will really love this book because it gave me so many similar feels! Besides the fact that they are set in the same era, the fantastical and mythical aspects have a comparable vibe, given all the ninjas, yokai, drama, and bloodiness. Honestly, Mariko seems like what you would get if you combined Sango and Kagome into the same character.
4)
While frustrating at times, I still really enjoyed Mariko as a character. When she failed, she would try again and again until she persevered. No matter how many times people told her to quit or how many obstacles she had to face, she was undeterred. I really appreciated her gumption and her spirit.
5)
I adore a good bromance, and the one between Ōkami and Ranmaru reminded me a lot of Khalid and Jalal from
The Wrath and the Dawn
duology. It's complicated but still very sweet. I loved all of their moments and their gibes. Those two beautifully depicted how family is not always defined by the blood that runs through your veins.
2)
I needed more romantic and kissy moments between Mariko and her love interest. However, the way their relationship developed
is
pretty common from what I've seen in many other Japanese-inspired books, anime, manga, and dramas. The whole "we seemingly hate each other until at one point, we finally kiss and surprise—we've actually been in love the entire time" thing. Because I'm so used to this happening, I didn't particularly mind. BUT . . .
because
I know how fantastic Renée Ahdieh is with swoony scenes, I desperately wanted more in this book. So hopefully in the sequel, then? *fingers crossed*
Week One:
Week Two:
Week Three:
Week Four:
Enter for a chance to win one (1) of five (5) copies of Flame in the Mist by Renee Ahdieh (ARV: $17.99 each).





NO PURCHASE NECESSARY. Enter between 12:00 AM Eastern Time on May 8, 2017 and 12:00 AM on June 5, 2017. Open to residents of thefifty United States and the District of Columbia who are 13 and older. Winners will be selected at random on or about June 10, 2017. Odds of winning depend on number of eligible entries received. Void where prohibited or restricted by law.
FTC Disclaimer: I received my review copy of Flame in the Mist in exchange for an honest review.