My TBR list is always growing and I thought it would be fun to share my anticipation for those books with all of you. This is not my own original meme; it belongs to
Breaking the Spine
. It specifically spotlights upcoming releases. As it implies in the title, I'll be posting this meme on Wednesdays. Please feel free to comment and let me know what books you guys are waiting on as well!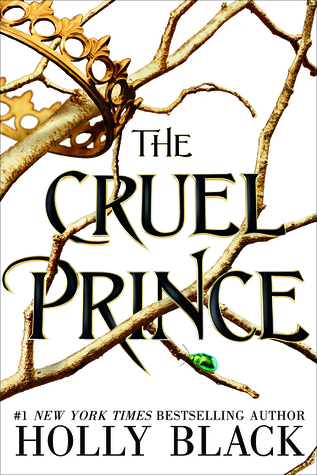 The Cruel Prince (The Folk of the Air #1) by Holly Black
Publisher: Little, Brown Books for Young Readers
Pub. Date: January 2nd, 2018
Of course I want to be like them. They're beautiful as blades forged in some divine fire. They will live forever.

And Cardan is even more beautiful than the rest. I hate him more than all the others. I hate him so much that sometimes when I look at him, I can hardly breathe.

Jude was seven years old when her parents were murdered and she and her two sisters were stolen away to live in the treacherous High Court of Faerie. Ten years later, Jude wants nothing more than to belong there, despite her mortality. But many of the fey despise humans. Especially Prince Cardan, the youngest and wickedest son of the High King.

To win a place at the Court, she must defy him–and face the consequences.

In doing so, she becomes embroiled in palace intrigues and deceptions, discovering her own capacity for bloodshed. But as civil war threatens to drown the Courts of Faerie in violence, Jude will need to risk her life in a dangerous alliance to save her sisters, and Faerie itself.
So when THE Leigh Bardugo tells you that a book is amazing and that it's the first faerie book she ever loved, you know you need to read it.
Basically, I'm sold :) I can't wait to dig into this beauty!
Holly Black

is the author of bestselling contemporary fantasy books for kids and teens. Some of her titles include The Spiderwick Chronicles (with Tony DiTerlizzi), The Modern Faerie Tale series, the Curse Workers series, Doll Bones, The Coldest Girl in Coldtown, the Magisterium series (with Cassandra Clare), The Darkest Part of the Forest, and her new series which begins with The Cruel Prince in January 2018.

She has been a a finalist for an Eisner Award, and the recipient of the Andre Norton Award, the Mythopoeic Award and a Newbery Honor. She currently lives in New England with her husband and son in a house with a secret door.
Blood of a Thousand Stars (Empress of a Thousand Skies #2) by Rhoda Belleza
Publisher: Razorbill
Pub. Date: February 20th, 2018
War tears the galaxy apart, power tests the limits of family, and violence gives way to freedom in this exhilarating sequel to Empress of a Thousand Skies.

Empress

With a revolution brewing, Rhee is faced with a choice: make a deal with her enemy, Nero, or denounce him and risk losing her crown.

Fugitive

Framed assassin Alyosha has one goal in mind: kill Nero. But to get his revenge, Aly may have to travel back to the very place he thought he'd left forever—home.

Princess

Kara knows that a single piece of technology located on the uninhabitable planet Wraeta may be the key to remembering—and erasing—the princess she once was.

Madman

Villainous media star Nero is out for blood, and he'll go to any means necessary to control the galaxy.

Vicious politics and high-stakes action culminate in an epic showdown that will determine the fate of the universe.
Rhoda Belleza has clearly been blessed by the cover gods, because wow, this one is just as gorgeous as the first!
Also, I absolutely adored Empress of a Thousand Skies so I cannot wait to get my hands on this stunning sequel :D
Rhoda Belleza was raised in Los Angeles, where she grew up writing XFiles fanfiction and stuffing her face with avocados. When she's not writing, Rhoda obsesses over nail art tutorials, watches kung fu movies, and sews together crooked things that pass for clothes. She's a children's editor at a publishing house and writes from a sunny Brooklyn apartment stuffed far too many bikes and far too many shoes. Empress of a Thousand Skies is her debut novel.
Are these books on your TBR? Or is this the first time you're hearing about them? Let me know your thoughts in the comments below! :)