My TBR list is always growing and I thought it would be fun to share my anticipation for those books with all of you. This is not my own original meme; it belongs to Breaking the Spine. It specifically spotlights upcoming releases. As it implies in the title, I'll be posting this meme on Wednesdays. Please feel free to comment and let me know what books you guys are waiting on as well!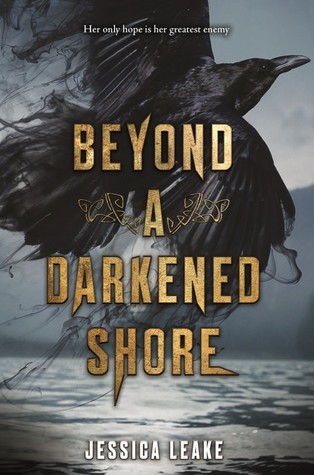 Beyond a Darkened Shore by Jessica Leake
Publisher: HarperTeen
Pub. Date: April 10th, 2018
The ancient land of Éirinn is mired in war. Ciara, Princess of Mide, has never known a time when Éirinn's kingdoms were not battling for power, or Northmen were not plundering their shores.

The people of Mide have thankfully always been safe because of Ciara's unearthly ability to control her enemies' minds and actions. But lately, a mysterious crow has been appearing to Ciara, whispering warnings of an even darker threat. Although her clansmen dismiss her visions as pagan nonsense, Ciara fears this coming evil will destroy not just Éirinn, but the entire world.

Then the crow leads Ciara to Leif, a young Northman leader. Leif should be Ciara's enemy, but when Ciara discovers that he, too, shares her prophetic visions, she knows he's something more. Leif is mounting an impressive army, and with Ciara's strength in battle the two might have a chance to save their world.

With evil rising around them, they'll do what it takes to defend the land they love…even if it means making the greatest sacrifice of all.
This cover is just gorgeous. I can't stop looking at it and petting it when it's on my screen. Based on this cover alone, I'd buy this book.
But then I read the synopsis and I'm even more excited. A princess with mind control powers and a mystical crow that's actually part of the plot and not just a symbol?! I need it.
Jessica Leake

is the author of the adult novels Arcana and The Order of the Eternal Sun both with Skyhorse. She worked for years as a psychotherapist, but even though she loved her clients, she couldn't stop writing. She lives in South Carolina with her husband, three young children, a lot of chickens, and two dogs who keep everyone in line. Beyond A Darkened Shore is her YA debut.
Your One and Only by Adrianne Finlay
Publisher: Simon & Schuster Books for Young Readers
Pub. Date: February 6, 2018
Jack is a walking fossil. The only human among a sea of clones. It's been hundreds of years since humanity died off in the slow plague, leaving the clones behind to carry on human existence. Over time they've perfected their genes, moving further away from the imperfections of humanity. But if they really are perfect, why did they create Jack?

While Jack longs for acceptance, Althea-310 struggles with the feeling that she's different from her sisters. Her fascination with Jack doesn't help. As Althea and Jack's connection grows stronger, so does the threat to their lives. What will happen if they do the unthinkable and fall in love?
For some reason, I find the cover really alluring and I can't stop looking at it!
I'm really in the mood for a sci-fi right now. I've been reading a lot of fantasy and fluffy contemporary and I'm looking for a change in what I normally read.
Originally from Ithaca, New York, Adrianne Finlay now lives in Cedar Falls, Iowa with her husband, the poet J. D. Schraffenberger, and their two young daughters. She received her

PhD

in literature and creative writing from Binghamton

University,

and is an associate professor of English at Upper Iowa University in Fayette, Iowa. She is also an avid soap

maker,

and sells handmade soap locally to raise money for type 1 diabetes research.
Are these books on your TBR? Or is this the first time you're hearing about them? Let me know your thoughts in the comments below! :)