My TBR list is always growing and I thought it would be fun to share my anticipation for those books with all of you. This is not my own original meme; it belongs to Breaking the Spine. It specifically spotlights upcoming releases. As it implies in the title, I'll be posting this meme on Wednesdays. Please feel free to comment and let me know what books you guys are waiting on as well!
Shadowsong (Wintersong #2) by S. Jae-Jones
Publisher: Wednesday Books
Pub. Date: January 30th, 2018
The conclusion to the gorgeous and lush Wintersong duology.

"A maze of beauty and darkness, of music and magic and glittering things, all tied together with exquisite writing. This is a world you will want to stay lost in."—Marie Lu, #1 New York Times bestselling author

Six months after the end of Wintersong, Liesl is working toward furthering both her brother's and her own musical careers. Although she is determined to look forward and not behind, life in the world above is not as easy as Liesl had hoped. Her younger brother Josef is cold, distant, and withdrawn, while Liesl can't forget the austere young man she left beneath the earth, and the music he inspired in her.

When troubling signs arise that the barrier between worlds is crumbling, Liesl must return to the Underground to unravel the mystery of life, death, and the Goblin King—who he was, who he is, and who he will be. What will it take to break the old laws once and for all? What is the true meaning of sacrifice when the fate of the world—or the ones Liesl loves—is in her hands?
This was me after finishing Wintersong, back when it was still a "standalone" with a companion novel...
And this was me after the sequel was announced...
Needless to say, I need this book—pronto xD
S. Jae-Jones

(called JJ) is an artist, an adrenaline junkie, and erstwhile editrix. When not obsessing over books, she can be found jumping out of perfectly good airplanes, co-hosting the Pub(lishing) Crawl podcast, or playing dress-up. Born and raised in Los Angeles, she now lives in North Carolina, as well as many other places on the internet, including Twitter, Tumblr, Facebook, Instagram, and her blog.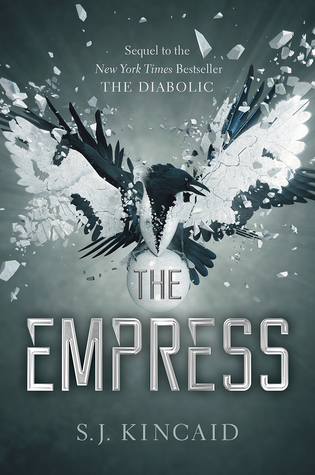 The Empress (The Diabolic #2) by S.J. Kincaid
Publisher: Simon & Schuster Books for Young Readers
Pub. Date: October 31st, 2017
The thrilling sequel to S.J. Kincaid's New York Times bestselling novel, The Diabolic that TeenVogue.com called "the perfect kind of high-pressure adventure."

It's a new day in the Empire. Tyrus has ascended to the throne with Nemesis by his side and now they can find a new way forward—one where they don't have to hide or scheme or kill. One where creatures like Nemesis will be given worth and recognition, where science and information can be shared with everyone and not just the elite.

But having power isn't the same thing as keeping it, and change isn't always welcome. The ruling class, the Grandiloquy, has held control over planets and systems for centuries—and they are plotting to stop this teenage Emperor and Nemesis, who is considered nothing more than a creature and certainly not worthy of being Empress.

Nemesis will protect Tyrus at any cost. He is the love of her life, and they are partners in this new beginning. But she cannot protect him by being the killing machine she once was. She will have to prove the humanity that she's found inside herself to the whole Empire—or she and Tyrus may lose more than just the throne. But if proving her humanity means that she and Tyrus must do inhuman things, is the fight worth the cost of winning it?
I didn't know much about The Diabolic before reading it, and I was totally blown away. This was originally also a standalone, so I am thrilled for a sequel.
While I do have some reservations about The Empress because I felt that The Diabolic ended perfectly, I still have high hopes that this will be just as fast-paced and exciting as book one :)
S.J. Kincaid was born in Alabama, grew up in California, and attended high school in New Hampshire, but it was while living beside a haunted graveyard in Scotland that she realized that she wanted to be a writer. Her debut, Insignia, came out in July of 2012. The second book in the series, Vortex was released in July of 2013. The final book in the trilogy, Catalyst, came out October 28, 2014.
Are these books on your TBR? Or is this the first time you're hearing about them? Let me know your thoughts in the comments below! :)