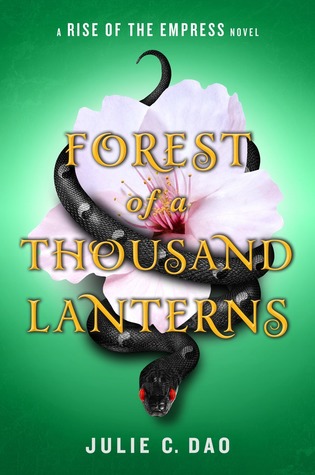 Forest of a Thousand Lanterns by Julie C. Dao
Publisher: Philomel Books/Penguin Random House
Pub. Date:
October 10th, 2017
Buy it:
Amazon
|
B&N
|
Book Depository
The Wrath and the Dawn meets Snow White and the Huntsman in this dark and mystical East Asian fantasy reimagining of The Evil Queen legend about one peasant girl's quest to become Empress—and the darkness she must unleash to achieve her destiny.

Eighteen-year-old Xifeng is beautiful. The stars say she is destined for greatness, that she is meant to be Empress of Feng Lu. But only if she embraces the darkness within her. Growing up as a peasant in a forgotten village on the edge of the map, Xifeng longs to fulfill the destiny promised to her by her cruel aunt, the witch Guma, who has read the cards and seen glimmers of Xifeng's majestic future. But is the price of the throne too high?

Because in order to achieve greatness, she must spurn the young man who loves her and exploit the callous magic that runs through her veins—sorcery fueled by eating the hearts of the recently killed. For the god who has sent her on this journey will not be satisfied until his power is absolute.

Set in an East Asian-inspired fantasy world filled with both breathtaking pain and beauty, Forest of a Thousand Lanterns possesses all the hallmarks of masterful fantasy: dazzling magic, heartbreaking romance, and a world that hangs in the balance. Fans of Heartless, Stealing Snow, and Red Queen will devour this stunning debut.
After waiting for this book for what felt like an
eternity
, I finally read it and
holy crap
—I'm in love. I mean, it's about The Evil Queen's rise to power BUT it's also set in a fantasy Chinese-inspired world. If that doesn't have you rushing to add it to your TBR, I don't know what will.
Forest of a Thousand Lanterns
is the tale of how the Evil Queen (a.k.a. Xifeng) gets her throne. It feels as if the Evil Queen herself has been
dying
to get her
story told, and she finally is able to accomplish this with the help of Julie C. Dao.
Xifeng is an
incredible
character. Is she evil? Yes. Is she still fabulous? So much so, that I have heart eyes for days. While her morals are questionable, her drive and her passion are ravishing. She doesn't let anything stand in her way, and I found that to be incredibly inspiring.
Forest of a Thousand Lanterns well exceeded all of my expectations. It was dark, enchanting, and utterly alluring. This book will satisfy your need for villain stories, and will quickly have you begging Julie Dao for more.
1) I am a big fan of villains
being
villains. Give me a villain with an intriguing backstory and a real wickedness to them, and you'll have my attention. While I did feel for Xifeng, it was also easy to see her in all her heinous glory. The true magic of this book is how much I was cheering for her, even though she was doing plenty of terrible things.
2) Too many times have I read a story where the leading lady puts aside her dreams and ambitions for a man and while I don't think there is anything necessarily wrong with that (if that is really what the protagonist wants with her life) BUT it's refreshing to see characters who still go after their dreams, even if it means that they have to let go of someone they care about.
3) Julie Dao's writing is imaginative and lovely. Her style reminds me a lot of Roshani Chokshi and Stephanie Garber, with her lavish and atmospheric setting and descriptions. She truly captures that dazzling fairy-tale feel, and it's wonderfully immersive.
4) This is a really fresh retelling! Julie Dao really makes this story her own. A new setting, a new perspective, and almost an entirely new plot. Over and over again have I seen retellings with no nuances, but that isn't the case with Forest of a Thousand Lanterns.
1) The beginning of the story was kind of misleading as to where the plot was going, but once I got through a couple chapters, my heart got involved and from that point, I was loving every second.
Have you read Forest of a Thousand Lanterns? What did you think of it? Is it on your TBR? Let me know!