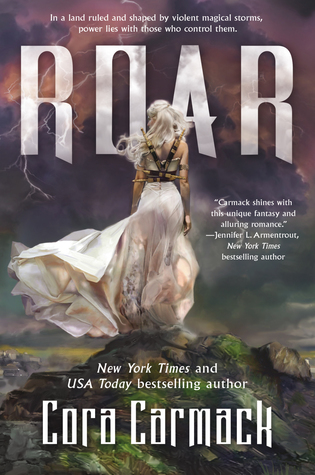 Format: Paperback ARC
Publisher: Tor Teen/Macmillan
Pub. Date: June 13th, 2017
Buy it:
Amazon
|
B&N
|
Book Depository
In a land ruled and shaped by violent magical storms, power lies with those who control them.

Aurora Pavan comes from one of the oldest Stormling families in existence. Long ago, the ungifted pledged fealty and service to her family in exchange for safe haven, and a kingdom was carved out from the wildlands and sustained by magic capable of repelling the world's deadliest foes. As the sole heir of Pavan, Aurora's been groomed to be the perfect queen. She's intelligent and brave and honorable. But she's yet to show any trace of the magic she'll need to protect her people.

To keep her secret and save her crown, Aurora's mother arranges for her to marry a dark and brooding Stormling prince from another kingdom. At first, the prince seems like the perfect solution to all her problems. He'll guarantee her spot as the next queen and be the champion her people need to remain safe. But the more secrets Aurora uncovers about him, the more a future with him frightens her. When she dons a disguise and sneaks out of the palace one night to spy on him, she stumbles upon a black market dealing in the very thing she lacks―storm magic. And the people selling it? They're not Stormlings. They're storm hunters.

Legend says that her ancestors first gained their magic by facing a storm and stealing part of its essence. And when a handsome young storm hunter reveals he was born without magic, but possesses it now, Aurora realizes there's a third option for her future besides ruin or marriage.
She might not have magic now, but she can steal it if she's brave enough.

Challenge a tempest. Survive it. And you become its master.
It's been a long time since I made it through a book past my DNF point (the first 25% of a book) and wanted to rate it lower than four stars. While I enjoyed reading Roar—it has solid world building, a unique magical element, and decent writing—I found myself bored through several sections, struggling with my feelings towards the main character, and all of the characters in general. It just sadly wasn't one of my favorite books or one that I would readily recommend.
Basically, it was okay, and I don't regret reading it. Otherwise, I wouldn't have finished it. While reading, I felt like a casual observer as opposed to being thrust into the thick of things—I was emotionally unattached for the most part. Whether someone lived or died, I couldn't care less. I was just curious to see what it was all leading up to, but in the end, that didn't even end up being revealed in this book. Though I am kind of curious to see what's in store for this series since it seemed as if this book was setting up for what was to come, reading the sequel won't be a top priority for me.
1)
First, I have to admit that when I found out that this book was going to be about storm powers, I was totally expecting the main character to be like this:
Sadly, there were no moments like that BUT Carmack does put a new spin on this type of magic. In this story, the people in power need magic in order to protect their people from different types of storms that ravage the lands. The way these powers are manipulated and controlled was a breath of fresh air—literally. I don't want to give away too much but I enjoyed the personality of the different elements. You'll just have to read the book to find out what I mean by that ;)
2)
The world-building was very detailed with a lot of different types of people and cultures. I could almost hear the different languages in my ears and feel as if I was walking alongside Aurora. Everything was incredibly well described. I liked learning about the different cultures and religions in this book.
3)
I initially fell for the guy with villainous intent. The last time this happened to me was when I was reading
Shadow and Bone
—before it was revealed that The Darkling was the bad guy. Cora Carmack made me doubt my own warning bells—which is extremely impressive—since I usually fall for the brooding, "nice" guy. And yet, I had more feelings towards the malevolent guy than the actual love interest here.
4)
For the whole story, I felt like the book was leading up to this big climatic moment and honestly, it was extremely unsatisfying in the end. It didn't feel climactic in the slightest and there were no trace of shock or awe. When I reached it, it was more like, "
Oh
, that's it? Okay." It's possible that this big pivotal moment is to come in the sequels but after reading this entire book, I wanted some gratification but nope, I didn't get any.
1) I've never been a fan of the I'm-going-to-lie-because-it's-for-the-best-but-it's-actually-the-biggest-mistake-I-could-possibly-make. I've seen this time and time again as a plot device and it's extremely frustrating since you know that the lies are going to come out eventually, because why else put it in the story? And 99% percent of the time, it's not for the best. It's just something the author puts in to help add tension to the plot, and in this case—unsuccessfully, in my opinion. If you're going to lie about something huge, at least make the stakes high and give me some reason to understand why you're stupidly lying.
2) You guys know how much I love my ships. All it takes is one fleeting moment of intense chemistry between two characters, and this is me:
But in this case, it just seemed like instalove to me, especially on the male love interest's side. I couldn't make sense of why he instantly wanted to help the female lead or how he fell for her so hard. Their relationship developed too quickly, I didn't see or feel enough of their affections for me to buy into it.
3) The middle section of the plot dragged. It was while the characters were traveling across the country, and usually these types of scenes are pretty boring for me. Hence why I could never make it all the way through the Lord of the Rings trilogy.
4) Roar's initial spunk fizzles out after the first 25% of the book. At first, I was on her side but as the story went on, she became more blah. By the middle of the book, I didn't care about her at all and was annoyed during her sections of the book.