Hey, everyone! I have the pleasure to have McKelle George on the blog today to share the book trailer for Speak Easy, Speak Love, plus an interview with the author herself! I hope you guys enjoy!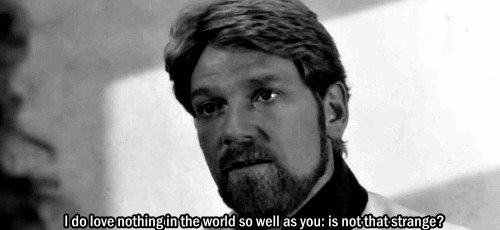 Publisher: Greenwillow Books/HarperCollins Publisher
Pub. Date: September 19, 2017
Six teenagers' lives intertwine during one thrilling summer full of romantic misunderstandings and dangerous deals in this sparkling retelling of Shakespeare's Much Ado About Nothing.

After she gets kicked out of boarding school, seventeen-year-old Beatrice goes to her uncle's estate on Long Island. But Hey Nonny Nonny is more than just a rundown old mansion. Beatrice's cousin, Hero, runs a struggling speakeasy out of the basement—one that might not survive the summer.

Along with Prince, a poor young man determined to prove his worth; his brother, John, a dark and dangerous agent of the local mob; Benedick, a handsome trust-fund kid trying to become a writer; and Maggie, a beautiful and talented singer; Beatrice and Hero throw all their efforts into planning a massive party to save the speakeasy. Despite all their worries, the summer is beautiful, love is in the air, and Beatrice and Benedick are caught up in a romantic battle of wits that their friends might be quietly orchestrating in the background.

Hilariously clever and utterly charming, McKelle George's debut novel is full of intrigue and 1920s charm. For fans of Jenny Han, Stephanie Perkins, and Anna Godbersen.
McKelle George is a reader, editor, perpetual doodler, and associate librarian at the best library in the world. She mentors with Salt Lake Teen Writes and plays judge for the Poetry Out Loud teen competitions (but has no poetic talent herself). Her debut young adult novel Speak Easy, Speak Love comes out from Greenwillow/HarperCollins in 2017, and she currently lives in Salt Lake City with an enormous white german shepherd and way, way too many books.
Connect with McKelle: Website | Twitter | Facebook | Pinterest
What is your favorite speakeasy, and why?
Wow, great question. I'm going to go with the 300 Club. Texas Guinan ("Hello suckers!") was one of the first female emcees. Upon the introduction of Prohibition, she opened a speakeasy called the 300 Club at 151 W. 54th Street in New York City (1920).
Is Much Ado About Nothing your favorite Shakespeare comedy (by the way, it's definitely mine)? What are your other favorite plays of his? Would you ever want to write another retelling based on these plays?
Mine too! Ha ha, obviously. My other favorites are:
Much Ado About Nothing (obviously)
The Tempest
The Taming of the Shrew
The Merchant of Venice
Titus Andronicus
Henry the IV, Part I
Twelfth Night
Macbeth
King Lear
Midsummer's Night Dream
And I definitely would! I'm actually working a magical realism version of
The Tempest
, in fact.
What other stories would you like to write a retelling for, if any?
I would really love to see/write a YA version of Rebecca, and Agatha Christie's
And Then There Were None
.
What was your biggest challenge when you were writing Speak Easy, Speak Love?
Adapting the play: specifically, finding the balance between walking too close to the original and where to stray away from it. How to be original yet not lose the spirit of the play. How to adapt problematic things that don't translate to a modern reader, etc.
What are your favorite and least favorite tropes to read?
I am, obviously, a big fan of the hate to love trope. I also am kind of a sucker for the misunderstood villain who has one soft spot (also found in
Speak Easy, Speak Love
). My least favorite tropes are insta-love and the Only Complex Female Character is Great Because of Solely Male Characteristics. Also this is purely personal taste, but I'm getting a little tired of constantly and overtly gorgeous people. Can't someone have a zit just once and still save the world?
Would you ever consider writing under a pseudonym?
I think so! I like my name, of course, but publishing is slow and sometimes pseudonyms can help you get around contractual waiting.
What are your favorite and least favorite scenes to write?
The hardest scenes for me to write are the ones that have to do a lot of emotional and plot work at once: trying to figure out how not to be over the top and also keep the pace up. I also don't love fighty-action scenes. I
do
love witty bantering and kissing. (:
What's next for you? Are you working on something new? Can you share anything about it with us?
I'm working on that
Tempest
retelling I mentioned, and also a dieslpunk reimagining of the Arthurian legend. (:
a Rafflecopter giveaway
FTC Disclaimer: Giveaway provided by McKelle George. Brittany's Book Rambles received no compensation for this post. US entries only.