My TBR list is always growing and I thought it would be fun to share my anticipation for those books with all of you. This is not my own original meme; it belongs to Breaking the Spine. It specifically spotlights upcoming releases. As it implies in the title, I'll be posting this meme on Wednesdays. Please feel free to comment and let me know what books you guys are waiting on as well!
This week is about diverse ladies breaking down molds and expectations, and I AM HERE FOR IT. Two books with POC ladies on the cover, and I'm hoping this is a trend that is here to stay.
Publisher:
Simon Pulse/Simon & Schuster
Expected Pub. Date:
February 6, 2018
Buy Links:
Amazon
|
Barnes & Noble
|
Book Depository
An incisive, laugh-out-loud contemporary debut about a Taiwanese-American teen whose parents want her to be a doctor and marry a Taiwanese Ivy Leaguer despite her germophobia and crush on a Japanese classmate.

At seventeen, Mei should be in high school, but skipping fourth grade was part of her parents' master plan. Now a freshman at MIT, she is on track to fulfill the rest of this predetermined future: become a doctor, marry a preapproved Taiwanese Ivy Leaguer, produce a litter of babies.

With everything her parents have sacrificed to make her cushy life a reality, Mei can't bring herself to tell them the truth—that she (1) hates germs, (2) falls asleep in biology lectures, and (3) has a crush on her classmate Darren Takahashi, who is decidedly not Taiwanese.

But when Mei reconnects with her brother, Xing, who is estranged from the family for dating the wrong woman, Mei starts to wonder if all the secrets are truly worth it. Can she find a way to be herself, whoever that is, before her web of lies unravels?

From debut author Gloria Chao comes a hilarious, heartfelt tale of how unlike the panda, life isn't always so black and white.

This is giving me When Dimple met Rishi vibes, which makes it an instant TBR add for me.
But also, I'm really intrigued about the secrets that Mei, the main character, is going to uncover in her seemingly straight-laced family.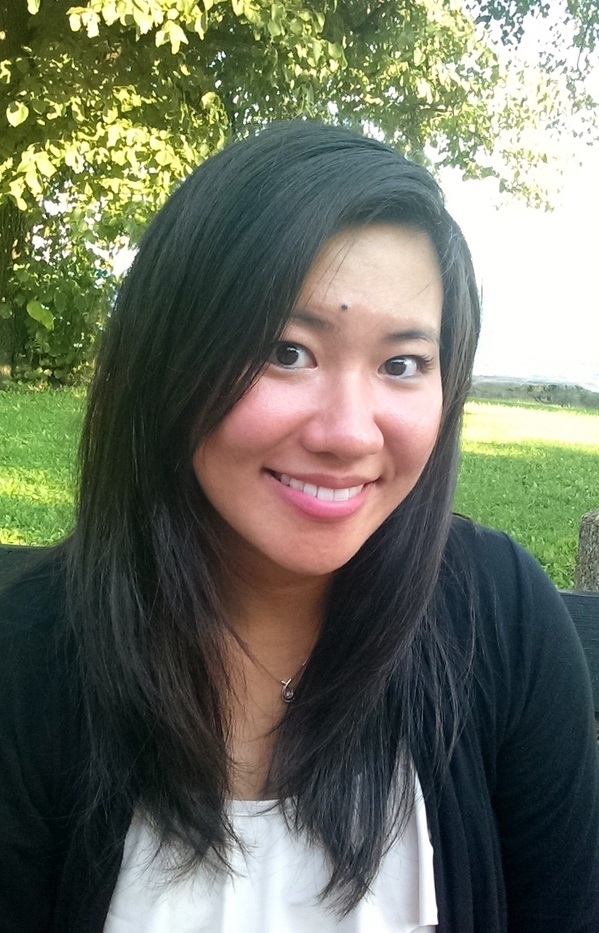 Gloria Chao is an MIT grad turned dentist turned writer. AMERICAN PANDA is her debut novel, coming out February 6, 2018 from Simon Pulse/Simon & Schuster.

Gloria currently lives in Chicago with her ever-supportive husband, for whom she became a nine-hole golfer (sometimes seven). She is always up for cooperative board games, Dance Dance Revolution, or soup dumplings. She was also once a black belt in kung-fu and a competitive dancer, but that side of her was drilled and suctioned out.
Connect with Gloria: Website | Twitter | Instagram | Facebook | Tumblr
Publisher:
Farrar, Straus and Giroux Books for Young Readers/Macmillan
Expected Pub. Date:
February 27, 2018
Buy Links:
Amazon
|
Barnes and Noble
|
Book Depository
A timeless exploration of high-stakes romance, self-discovery, and the lengths we go to love and be loved.

Sixteen-year-old Zarin Wadia is many things: a bright and vivacious student, an orphan, a risk taker. She's also the kind of girl that parents warn their kids to stay away from: a troublemaker whose many romances are the subject of endless gossip at school. You don't want to get involved with a girl like that, they say. So how is it that eighteen-year-old Porus Dumasia has only ever had eyes for her? And how did Zarin and Porus end up dead in a car together, crashed on the side of a highway in Jeddah, Saudi Arabia? When the religious police arrive on the scene, everything everyone thought they knew about Zarin is questioned. And as her story is pieced together, told through multiple perspectives, it becomes clear that she was far more than just a girl like that.

This beautifully written debut novel from Tanaz Bhathena reveals a rich and wonderful new world to readers. It tackles complicated issues of race, identity, class, and religion, and paints a portrait of teenage ambition, angst, and alienation that feels both inventive and universal.
The title of this book really speaks to me, because I have been hearing this phrase for my entire life
—a
bout me, about my other female friends, and even about girls I don't even know personally
—
and
I am sick of it.
I think this book could be really important for us right now in the conversation about feminism, and assumptions we place on women, before even knowing them.
Tanaz Bhathena was born in Mumbai and raised in Riyadh, Jeddah and Toronto.

She is the winner of the 2009 MARTY for Emerging Literary Arts, a semi-finalist for the 2013 Jeffrey Archer Short Story Challenge and the Readers' Choice pick for the 2015 U of T Magazine Short Story Contest. Her short stories have appeared in various journals, including Blackbird, Witness and Room Magazine.

A Girl Like That is her first novel. Her second novel, Last Days, First Days, is forthcoming winter 2019.
What do you guys think about these diverse contemporaries? What other books like these do you have on your TBR? Is this the first time you're hearing about them? Are they already on your to-read list? Let me know!