My TBR list is always growing and I thought it would be fun to share my anticipation for those books with all of you. This is not my own original meme; it belongs to Breaking the Spine. It specifically spotlights upcoming releases. As it implies in the title, I'll be posting this meme on Wednesdays. Please feel free to comment and let me know what books you guys are waiting on as well!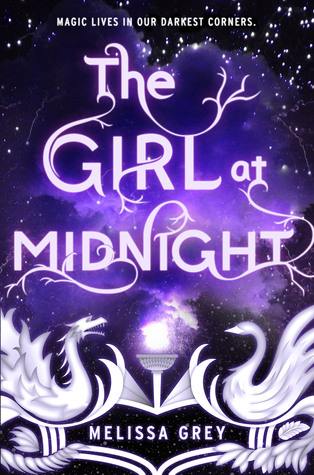 Synopsis:
For readers of Cassandra Clare's City of Bones and Leigh Bardugo's Shadow and Bone, The Girl at Midnight is the story of a modern girl caught in an ancient war.
Beneath the streets of New York City live the Avicen, an ancient race of people with feathers for hair and magic running through their veins. Age-old enchantments keep them hidden from humans. All but one. Echo is a runaway pickpocket who survives by selling stolen treasures on the black market, and the Avicen are the only family she's ever known.

Echo is clever and daring, and at times she can be brash, but above all else she's fiercely loyal. So when a centuries-old war crests on the borders of her home, she decides it's time to act.
Legend has it that there is a way to end the conflict once and for all: find the Firebird, a mythical entity believed to possess power the likes of which the world has never seen. It will be no easy task, but if life as a thief has taught Echo anything, it's how to hunt down what she wants . . . and how to take it.
But some jobs aren't as straightforward as they seem. And this one might just set the world on fire.
The fact that it's synopsis compares it to Shadow and Bone grabs my attention right away. Next, it's set in my hometown. So that's two points in its favor right off the bat. This book has been creating a lot of buzz and I can't help feel the excitement. I'm really digging fantasy books right now and with that description and the gorgeous cover, you better believe my hands are all over this one.
This book is also special to me because I'm going to be attending its launch party which is being held at my favorite bookstore
Books of Wonder
. Which is more than fitting considering the book's setting. I'll be sure to post a picture from the event on my
Instagram
for those of you who are interested.
Here are some links related to this book you guys might be interested in:
Author's website
Author's twitter
Books of Wonder webpage
(you can pre-order a signed copy
here
)
Prologue and First Chapter