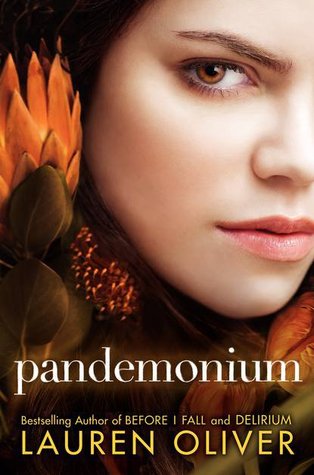 4/5 Stars
Details of the Book:
Hardcover, 384 pages.
Published by HarperCollins
Synopsis: I'm pushing aside
the memory of my nightmare,
pushing aside thoughts of Alex,
pushing aside thoughts of Hana
and my old school,
push,
push,
push,
like Raven taught me to do.
The old life is dead.
But the old Lena is dead too.
I buried her.
I left her beyond a fence,
behind a wall of smoke and flame.
Lauren Oliver delivers an electrifying follow-up to her acclaimed New York Times bestseller, Delirium. This riveting, brilliant novel crackles with the fire of fierce defiance, forbidden romance, and the sparks of a revolution about to ignite.
It was hard for me to like this book. Not because it wasn't good but because of the lack of Alex. The entire time I was grieving his loss while Lena had other things to deal with. This book does turn the trilogy into a love triangle and Oliver makes it difficult not to like Julian. My main problem with this book is related to the direction of the plot. I fell in love with Delirium because of Alex and Lena's relationship and because this book stepped away from that. I didn't want to move on from Alex and in this book Lena has to. Oliver's writing is so entrancing that even though I wanted more Alex, to me it's still a great book.
Strengths/Likes:
1)
Even though I missed Alex, I thought the plot was very interesting. There was a lot of action and new elements to the world.
2)
As much as I didn't want to I really liked Julian. In fact, I felt bad for him most of the time.
Weaknesses/Dislikes:
1)
Why,
why
,
WHY
did Lena never attempt to find Alex?! I think we're supposed to believe that he's dead but she had no confirmation of that. Lena risks life and limb for Julian, a guy she barely knows but she didn't do the same for Alex. This made me question her feelings for Alex to begin with. It made me question their entire relationship and therefore questioning the very foundation for me loving
Delirium
.
2)
This is related to my first dislikes, I don't like how quickly Lena fell in love with Julian. I understand that they went through something terrible together and gained feelings due to their situation but Alex had been gone for such a short period of time. I just felt that it was too soon for her to "move-on."
3)
I know a lot of people like Raven but I found her to be really irritating. I wasn't interested in her story or her in general. I had no idea how or why she became the leader of their group of Invalids.
Favorite Quotes/Moments:
1)
"Love, the deadliest of all deadly things.
It kills you.
Alex.
When you have it.
Alex.
And when you don't.
Alex."
2) "
This is what hatred is. It will feed you and at the same time turn you to rot."
3)
"Alex loved books. He was the one who first introduced me to poetry. That's another reason I can't read anymore."