My TBR list is always growing and I thought it would be fun to share my anticipation for those books with all of you. This is not my own original meme; it belongs to Breaking the Spine. It specifically spotlights upcoming releases. As it implies in the title, I'll be posting this meme on Wednesdays. Please feel free to comment and let me know what books you guys are waiting on as well
!
This week, the books are all about how writing can create new and magical worlds, and also destroy them!
Ink, Iron, and Glass by Gwendolyn Clare
Publisher: Imprint/Macmillan
Expected Pub. Date: February 20, 2018
Can she write a world gone wrong?

A certain pen, a certain book, and a certain person can craft entirely new worlds through a branch of science called scriptology. Elsa comes from one such world that was written into creation by her mother—a noted scriptologist.

But when her home is attacked and her mother kidnapped, Elsa is forced to cross into the real world and use her own scriptology gifts to find her. In an alternative Victorian Italy, Elsa finds a secret society of pazzerellone—young people with a gift for mechanics, alchemy, or scriptology—and meets Leo, a gorgeous mechanist with a smart mouth and tragic past. She recruits the help of these fellow geniuses just as an assassin arrives on their doorstep.

In this thrilling debut, worlds collide as Elsa unveils a deep political conspiracy seeking to unlock the most dangerous weapon ever created—and only she can stop it.
Alternative Victorian Italy, a girl who can write new worlds into existence... and my mind went straight to this:
Any book that makes my mind go to a beloved Broadway song is automatically added to my TBR. Plus the concept sounds really cool, and that cover was meant to be on this blog haha.
Gwendolyn Clare's debut novel—INK, IRON, AND GLASS—is the first in a steampunk duology about a young mad scientist with the ability to write new worlds into existence, forthcoming from Imprint in 2018. Her short stories have appeared in Clarkesworld, Asimov's, and Beneath Ceaseless Skies, among others, and her poetry has been nominated for the Rhysling Award. She holds a BA in Ecology, a BS in Geophysics, a PhD in Mycology, and swears she's done collecting acronyms. She lives in North Carolina with too many cats, too many ducks, and never enough books.
Inkmistress by Audrey Coulthurst
Publisher: Balzer + Bray/HarperCollins
Expected Pub. Date: March 6, 2018
Asra is a demigod with a dangerous gift: the ability to dictate the future by writing with her blood. To keep her power secret, she leads a quiet life as a healer on a remote mountain, content to help the people in her care and spend time with Ina, the mortal girl she loves.

But Asra's peaceful life is upended when bandits threaten Ina's village and the king does nothing to help. Desperate to protect her people, Ina begs Asra for assistance in finding her manifest—the animal she'll be able to change into as her rite of passage to adulthood. Asra uses her blood magic to help Ina, but her spell goes horribly wrong and the bandits destroy the village, killing Ina's family.

Unaware that Asra is at fault, Ina swears revenge on the king and takes a savage dragon as her manifest. To stop her, Asra must embark on a journey across the kingdom, becoming a player in lethal games of power among assassins, gods, and even the king himself.

Most frightening of all, she discovers the dark secrets of her own mysterious history—and the terrible, powerful legacy she carries in her blood.
I really enjoyed Audrey Coulthurst's debut novel, Of Fire and Stars, and so it's no surprise that I want Inkmistress as well. Plus, a female demigod whose words can change the future?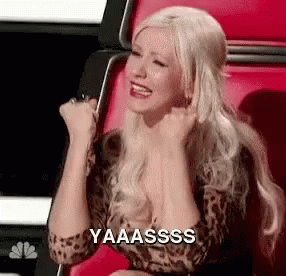 Audrey Coulthurst writes YA books that tend to involve magic, horses, and kissing the wrong people. Her debut novel, OF FIRE AND STARS, was published on November 22, 2016 by Balzer + Bray/HarperCollins. When she's not dreaming up new stories, she can usually be found painting, singing, or on the back of a horse.

Audrey has a Master's in Writing from Portland State University, is a member of SCBWI, and studied with Malinda Lo as a 2013 Lambda Literary Foundation Fellow. She lives in Santa Monica, California.
Connect with Audrey: Website | Twitter | Instagram | Facebook
What are some books you're waiting on this week? Are these books on your TBR, or is it the first time you're hearing about them? Let me know!