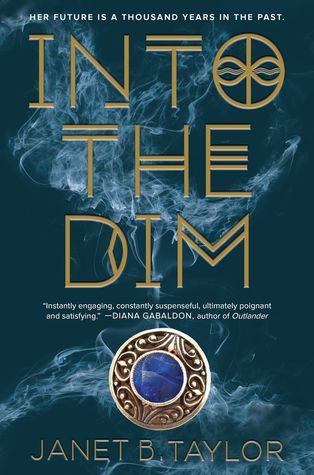 INTO THE DIM
by Janet B. Taylor
Paperback ARC, 425 pages
Published by Houghton Mifflin Harcourt
Publication Date:
March 1st, 2016
Pre-order:
Amazon
|
Barnes & Noble
When fragile, sixteen-year-old Hope Walton loses her mom to an earthquake overseas, her secluded world crumbles. Agreeing to spend the summer in Scotland, Hope discovers that her mother was more than a brilliant academic, but also a member of a secret society of time travelers. Trapped in the twelfth century in the age of Eleanor of Aquitaine, Hope has seventy-two hours to rescue her mother and get back to their own time. Along the way, her path collides with that of a mysterious boy who could be vital to her mission . . . or the key to Hope's undoing.

Addictive, romantic, and rich with historical detail, Into the Dim is an Outlander for teens.
The very first sentence of
Into the Dim
is "Everyone in town knew that the coffin was empty," and it was love at first line.
I
devoured
this book and could not believe it when I reached the end.
Into the Dim
has everything that I look for in a Historical Fiction novel: actual historical facts twisted into a new and fun plot. It actually left me wanting to know more about the history of the book's setting and of the the actual historical figures—
particularly Eleanor of Aquitaine. Seriously, if you want to get people interested in history, give them this book!
The plot and the characters are absolutely fantastic. My feelings were constantly being twisted as I tried to figure out what was going to happen next. I especially loved all of the powerhouse women in this book, and we definitely need more characters like the ones in
Into the Dim
. Honestly, there aren't positive words or things I can say that would sufficiently describe just how incredible Janet's debut novel is, but I promise you that if you pick this one up, you will not regret it.
1)
All of the women in this book are such strong figures, even if they aren't necessarily important to the plot. My favorite is Queen Eleanor and I love Hope's snarky personality but all of the women are fantastic and manifold. These are the women we need to look up to and try to emanate. I think they are great role models for girls, and people in general.
2)
The actual historical references and scientific theories in this book are woven seamlessly into the plot. Science has never been "my thing" and although I love history, I can't say that I'm what you would considered well-versed in the subject matter. However, I never felt stupid or confused while reading
Into The Dim
. Everything made sense to me and actually made me want to learn more about those theories and references.
3)
Into the Dim
's plot kept me guessing throughout the entire novel. I never felt like I knew what was going to happen. It kept jerking my thoughts and feels around, and I just had to keep devouring the pages.
4)
Just like the plot, the romance plays with your emotions and really grabs you by the heartstrings.
You
are in the relationship with the couple, and you truly
feel
their thrills and reservations. I won't say who the couple is because that's half the fun, but I definitely ship it!
1)
I don't have the sequel!