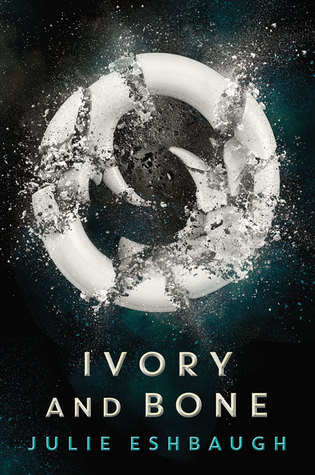 Ivory and Bone
by Julie Eshbaugh
Published by HarperTeen
Expected Publication:
June 14, 2016
Pre-Order:
Amazon
|
Barnes & Noble
Debut author Julie Eshbaugh's sweeping prehistoric fantasy—with allusions to Pride and Prejudice—will enthrall readers with high-stakes survival, blinding betrayal, and star-crossed love.

Hunting, gathering, and keeping his family safe—that's the life seventeen-year-old Kol knows. Then bold, enigmatic Mya arrives from the south with her family, and Kol is captivated. He wants her to like and trust him, but any hopes of impressing her are ruined when he makes a careless—and nearly grave—mistake. However, there's something more to Mya's cool disdain…a history wrought with loss that comes to light when another clan arrives. With them is Lo, an enemy from Mya's past who Mya swears has ulterior motives.

As Kol gets to know Lo, tensions between Mya and Lo escalate until violence erupts. Faced with shattering losses, Kol is forced to question every person he's trusted. One thing is for sure: this was a war that Mya or Lo—Kol doesn't know which—had been planning all along.

With riveting action and illustrative prose that leaps from the page, newcomer Julie Eshbaugh will have readers mesmerized.
Ivory and Bone
is a study in the basic human behaviors. It's a story of family, love, betrayal, revenge, and tragedy. I really liked the characters and found each of their personal stories and backgrounds extremely interesting. Each ones ties together in a beautiful way, until you're left with a complete tapestry of all their stories.
Julie's writing style really shocked me—the main character Kol talks to the reader as if you are the leading lady! I was worried about that at first, but it really worked in this book. I felt like I was a part of the story in a way that no other book has made me feel before. This technique also gives you real insight into Kol's thoughts and emotions, and you feel like you're his confidant.
Ivory and Bone
is so different from what I usually read but I loved it, and I hope all of you will too!
1)
Julie's writing style really took me by surprise. It's been a long time since I've read something written in the second person/first-person storytelling. Julie's style is a creative twist on the traditional second-person perspective. The main character, Kol, speaks to you (the reader) for the majority of the book as if you are the leading lady. I was concerned at first that I would get sick of this—but I didn't! It was just so cool and made me feel immensely connected to the story. And personally, I do
not
mind feeling like I'm the center of Kol's attention ;D
2)
I loved all of the family dynamics. I especially liked Kol's relationships with his brothers and his family in general. It all felt really sweet and well-developed. Julie makes sure that you know each character—their temperaments, feelings, everything.
3)
This book is all about the very basic human wants and emotions. These concepts might sound simple, but Julie really focuses on these aspects (such as the wanting a family, recognition, or trust) and makes you see how important they are.
1)
You get the sense from the beginning of the book that the plot is leading you up to something big—and it does—but I craved more of it. I wanted more action, more drama.
2)
I would have liked it if Kol and Mya interacted a bit more. They have this electric chemistry and I was desperate for more of it, perhaps through additional conversations and scenes together.
"You step out, leaving darkness and quiet, and emptiness behind you.

A void opens up in this room—opens up in my chest—from the lack of you."
"It's odd, I think, how the thing you love most in a person can also be the thing you sometimes wish you could change."
"And so I press on. My arms ache and my shoulders burn with pain, but I press on. I have no other choice. If I stop, I could die.

If I stop, you could die.

The starkness of this truth startles me, illuminates an awareness in me of something I could not—or would not—acknowledge before.

I cannot let you die, because I cannot face a future without you."
a Rafflecopter giveaway