My TBR list is always growing and I thought it would be fun to share my anticipation for those books with all of you. This is not my own original meme; it belongs to Breaking the Spine. It specifically spotlights upcoming releases. As it implies in the title, I'll be posting this meme on Wednesdays. Please feel free to comment and let me know what books you guys are waiting on as well!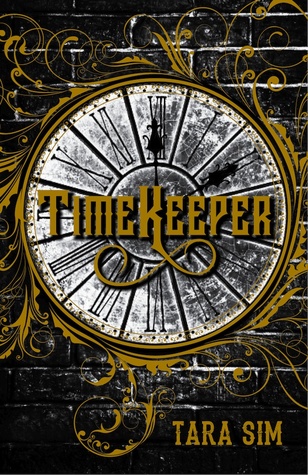 Timekeeper
by Tara Sim
Published by Sky Pony Press
Publication Date:
November 1, 2016
Pre-Order:
Amazon
|
B&N
|
Book Depository
In an alternate Victorian world controlled by clock towers, a damaged clock can fracture time—and a destroyed one can stop it completely.

It's a truth that seventeen-year-old clock mechanic Danny Hart knows all too well; his father has been trapped in a Stopped town east of London for three years. Though Danny is a prodigy who can repair not only clockwork, but the very fabric of time, his fixation with staging a rescue is quickly becoming a concern to his superiors.

And so they assign him to Enfield, a town where the tower seems to be forever plagued with problems. Danny's new apprentice both annoys and intrigues him, and though the boy is eager to work, he maintains a secretive distance. Danny soon discovers why: he is the tower's clock spirit, a mythical being that oversees Enfield's time. Though the boys are drawn together by their loneliness, Danny knows falling in love with a clock spirit is forbidden, and means risking everything he's fought to achieve.

But when a series of bombings at nearby towers threaten to Stop more cities, Danny must race to prevent Enfield from becoming the next target or he'll not only lose his father, but the boy he loves, forever.

The stunning first novel in a new trilogy by debut author Tara Sim, Timekeeper is perfect for fans of Cassandra Clare and Victoria Schwab.
We finally have a cover! Honestly, I was beginning to worry that we'd never get to see the cover. I feel like I've been waiting on this book for ages!
Timekeeper promises forbidden love and a fantasy Victorian world run by clocks! If that doesn't draw your attention, I don't know what will!
Tara Sim is the author of TIMEKEEPER (Sky Pony Press, Fall 2016) and writer of all things magic. She can often be found in the wilds of the Bay Area, California.

When she's not writing about mischievous boys in clock towers, Tara spends her time drinking tea, wrangling cats, and occasionally singing opera. Despite her bio-luminescent skin, she is half-Indian and eats way too many samosas.

Tara is represented by Laura Crockett at TriadaUS Literary Agency.

She also sometimes blogs for Quirk Books.

Name pronunciation: "tar-ah" (not "terr-ah").
Connect with Tara: Website | Twitter | Facebook | Pinterest | Instagram