Brittany: Hey everyone! Today, I have for all of you an interview Ava Jae, author of Beyond the Red! I hope that you all enjoy it and that you check out Ava's book!
I'm Ava Jae.

I write. I read. I Photoshop. Then I tweet/blog/tumbl/post/vlog/instagram about it and some pretty awesome people like and read and watch it. I'm also an Assistant Editor at Entangled, and I'm represented by the wonderful Louise Fury of The Bent Agency.

I write YA and NA paranormal, Sci-Fi and Fantasy novels because I love writing about self-discovery and the complicated worlds of young people. Then I like to take their emotionally-ridden lives, rip them apart and set them on fire. My debut novel BEYOND THE RED will be published in hardcover and e-book by Sky Pony Press in March 2016. It has aliens and kissing and explosions and you can add it to your Goodreads shelf here.
I also have an addiction to movies, but that's another matter entirely.
Connect with Ava: Website | Twitter | Tumblr | Facebook | Youtube | Instagram
Brittany: What has been the most memorable moment for you on your journey to becoming an author?
Ava:
I had my very first signing in August at Chapter One Young Writers conference, which was geared toward young writers. While I didn't have ARCs yet, I signed bookmarks and postcards and wrote a quick note to each person there, and it was so incredible getting to talk to young people about writing and see their enthusiasm for my book. No matter what happens, I'll always remember that first signing.
Brittany: What are your favorite and least favorite scenes to write?
Ava:
Favorite: anything with kissing—it is so fun to write. Least favorite: writing the last quarter or so of the book, no matter what book it is, is always a struggle for me. And easily my least favorite part.
Brittany: Do you have any particular habits or habitual rituals you have when you're writing? (Ex: always having chocolate on hand, etc...)
Ava:
Not really a habit, but I enjoy sitting with my fuzzy blanket in my desk chair with a hot cup of chai nearby. It's really relaxing. I also write in thirty-minute spurts while I'm first drafting, and try to write as quickly as possible during that time frame. It helps me get the draft down without worrying too much about the writing itself.
Brittany: Do you personally identify with any of your characters? If so, who and why?
Ava:
Well, I kind of have parts of myself in both Eros and Kora. Both Kora and Eros are emotional even though they try to put up a front of strength. Eros is very snarky, like me, and sits between two cultures without fully fitting into either, which is something I identify with as a white-passing Latina. Kora deals with a ton of responsibility—sometimes more than she feels ready to handle—which is something I struggled with as a teen. So yes, they both have little fragments of me built into them.
Brittany: How do you deal with outside factors interrupting your writing time? Such as friends or family members wanting you to go out or do something and saying "you can write later."
Ava:
Being stubborn. That sounds like a joke, but seriously that's how I do it. I also, especially with family, am very transparent about my plans for the day or if I'll be busy working on writing. They then usually know that I'll need some time set aside, so even if we want to make plans, I can work around it.
It also helps to write early in the morning, I've found, because that way even if I have a busy day ahead I still get some time in for writing.
Brittany: What is one thing that would make you stop reading a book?
Ava:
Not liking the voice. That's probably the #1 reason I put a book down—and it's something I usually test before buying. If I don't like the voice, it's not going to engage me, so I tend not to get very far at all.
Brittany: How much research did you have to do for Beyond the Red? What was that process like for you?
Ava:
While I made up many of the elements in Red, I did do some research on deserts, desert life/culture, research on religions around the world and all manner of languages and fantasy languages, as well as different forms of dance (including fire dancing!) and more. It was kind of a synthesized process for me, in that I did research in several gradual stages to build on what I already knew and further details I wanted to incorporate into the story.
Brittany: If you could travel to anywhere in the world (in any time period) where would you go for inspiration?
Ava:
Specifically for inspiration, I'd love to see (modern-day) Japan—from the city to the countryside, it's a place I've wanted to visit for some time.
Brittany: If Beyond the Red was picked up to be turned into a TV show or Movie, do you have a fancast in mind?
Ava:
I've sort of imagined someone similar to a younger version of Zoe Saldana for Kora, and Jesse Williams for Eros. But if a movie or TV show were to actually be made, I'd probably imagine new actors would play them as I can't really think of someone in the right age group that fit my image for them. (Of course, this is purely based off physical characteristics…)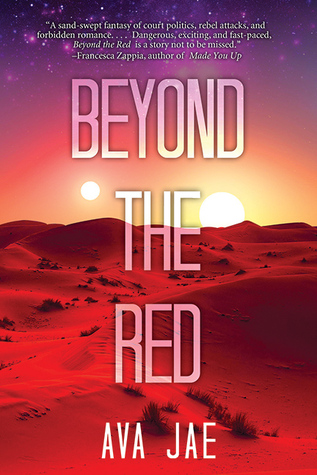 Beyond the Red
by Ava Jae
Published by Sky Pony Press
Publication Date:
March 1st, 2016
Buy it:
Amazon
|
Barnes & Noble
Alien queen Kora has a problem as vast as the endless crimson deserts. She's the first female ruler of her territory in generations, but her people are rioting and call for her violent younger twin brother to take the throne. Despite assassination attempts, a mounting uprising of nomadic human rebels, and pressure to find a mate to help her rule, she's determined to protect her people from her brother's would-be tyrannical rule.

Eros is a rebel soldier hated by aliens and human alike for being a half-blood. Yet that doesn't stop him from defending his people, at least until Kora's soldiers raze his camp and take him captive. He's given an ultimatum: be an enslaved bodyguard to Kora, or be executed for his true identity—a secret kept even from him.

When Kora and Eros are framed for the attempted assassination of her betrothed, they flee. Their only chance of survival is to turn themselves in to the high court, where revealing Eros's secret could mean a swift public execution. But when they uncover a violent plot to end the human insurgency, they must find a way to work together to prevent genocide.