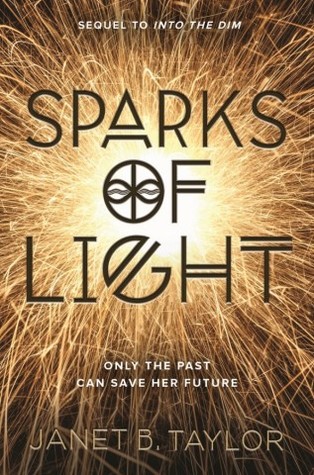 Sparks of Light (Into the Dim #2) by Janet B. Taylor
Publisher: HMH Books for Young Readers
Pub. Date: August 1st, 2017
Buy it:
Amazon
|
Barnes & Noble
|
Book Depository
For the first time in her life, Hope Walton has friends . . . and a (maybe) boyfriend. She's a Viator, a member of a long line of time-traveling ancestors. When the Viators learn of a plan to steal a dangerous device from the inventor Nikola Tesla, only a race into the past can save the natural timeline from utter destruction. Navigating the glitterati of The Gilded Age in 1895 New York City, Hope and her crew will discover that high society can be as deadly as it is beautiful.

In this sequel to the dazzling time-travel romance Into the Dim, sacrifice takes on a whole new meaning as Hope and Bran struggle to determine where—or when--they truly belong.
Sparks of Light
—the darker and more serious sequel to
Into the Dim—
was simultaneously adventurous, calamitous, and tragic. This time around, the Viators are traveling to New York City during The Gilded Age, (which was
somehow
less fun than England in the Middle Ages. Imagine that? xD) and significantly more ominous. As with the first installment, I adored how Taylor intertwined real history into the plot. Her interpretation of real historical characters—as well as their backstories—was incredible.
Janet B. Taylor bravely and fiercely tackles many of the societal hardships of the time in a heart-wrenching and realistic manner. Though I did miss some of the lighter and more romantic aspects that were in book one, following Hope on her journey to becoming a full member of the Viators was marvelous. Overall, this was a fantastic, somber, and tumultuous sequel that I thoroughly enjoyed reading. I only hope that there will be a happy ending for these wonderful characters in the conclusion to this trilogy.
1)
I
loved
all of the historical details and elements in
Sparks of Light
. Nikola Tesla, Thomas Edison, Conseulo Vanderbilt, and many more real historical figures are fantastically brought to life in this thrilling sequel. Taylor absolutely did her research on these people and wrapped their stories effortlessly into this masterful, time-traveling novel. For me, one of the most important key factors that mark a truly great historical fiction novel is that it should make you want to learn more about the real aspects featured in the book, and
Sparks of Light
was definitely successful in inspiring those feelings in me.
2)
I knew that Taylor was amazing at fun and action-filled scenes, but in this book, we see a totally different, darker side to her writing style. She explores what mental facilities were like in the late 1800s, and it's intensely descriptive and
eye-opening
(FYI, this is a
really
bad pun, and when you read this book . . . you will not thank me for it, haha). Due to all the psych classes I took back in college, I already knew about all of these disturbing details, but Taylor was able to bring these horrors to life. I was immensely impressed
and
terrified—all at the same time!
3)
While the first book
highlighted some Scottish culture,
Sparks of Light
showcased more of the Highlander lifestyle. Thanks to
Into the Dim
and
Outlander
, I have a newfound appreciation for Scotland, it's history, and it's culture, so I utterly enjoyed seeing more of these facets in this story.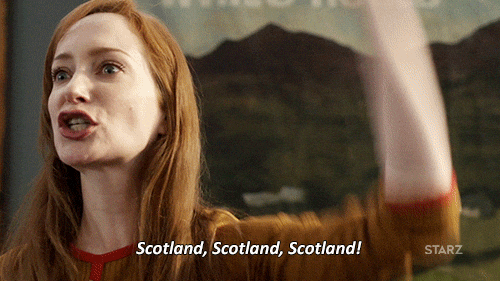 4)
One of my favorite things about
Into the Dim
are the female characters, and that is still true for the sequel. People constantly call for "strong female characters" but Taylor has all kinds of women in her stories. Some are strong, some are vulnerable, some are spunky, sassy, quiet—you name it—and there are female characters with some or
all
of these traits. I like that message, because there isn't just one way to be strong, as strength comes in many forms. We, as a society, need all kinds of depictions of female strength, and in Janet B. Taylor's books, that is never in short supply.
5)
While I am the biggest scaredy-cat in the world, the creepy details in in this book were on par with books like
The Unbecoming of Mara Dyer
by Michelle Hodkin
and
The Madman's Daughter
by Megan Shepherd. There is even a section in
Sparks of Light
about some of the horrors that occurred in women's mental institutions in the late 19th century that reminded me a lot of
The Changeling
movie
—
in the very best way!
Describing different types of stomach-churning details could easily be written to sound cheesy or unrealistic, but Janet absolutely
nails
it by sincerely bringing some of my worst historical fears to fruition. It was brilliantly executed, and truly frightening.
1)
I didn't like how the other characters kept trying to reassure Hope that Bran loves her. I would have preferred if we simply
saw
more proof that he cares for her than being told over and over that he does.
2) I desperately wanted to see the characters explore more of The Gilded Age in New York City, because I felt as if I didn't see enough of it, versus how much of the setting Janet explored in
Into the Dim.
"Ick."

"Ick?" Collum closed his eyes and pinched the creased skin between his sandy brows. "So what you're saying is that when you get into trouble on a mission, you'll simply . . . what? Call a time-out?" His voice went high-pitched in the worst American accent I'd ever heard. "'Excuse me! Hello, all you murderers. Could you please stop swinging at me for a moment, please? I've a muddy bum.'"
"There," he said. His hand smoothed over my hair as he smiled down at me. "Now it's forever."