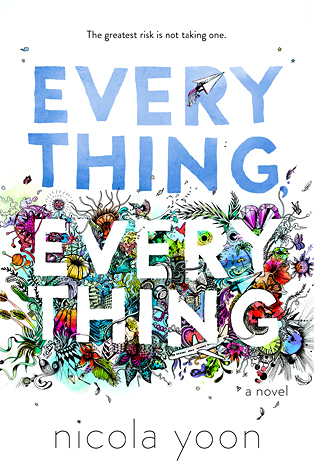 4.5/5 Stars
Details of the Book
Paperback ARC, 306 pages
Published by Delacorte Press,
an imprint of Random House Children's Books
Publication Date: September 1st, 2015
Synopsis: This innovative, heartfelt debut novel tells the story of a girl who's literally allergic to the outside world. When a new family moves in next door, she begins a complicated romance that challenges everything she's ever known. The narrative unfolds via vignettes, diary entries, texts, charts, lists, illustrations, and more.
My disease is as rare as it is famous. Basically, I'm allergic to the world. I don't leave my house, have not left my house in seventeen years. The only people I ever see are my mom and my nurse, Carla.
But then one day, a moving truck arrives next door. I look out my window, and I see him. He's tall, lean and wearing all black—black T-shirt, black jeans, black sneakers, and a black knit cap that covers his hair completely. He catches me looking and stares at me. I stare right back. His name is Olly.
Maybe we can't predict the future, but we can predict some things. For example, I am certainly going to fall in love with Olly. It's almost certainly going to be a disaster.
Madeline is an 18 year old girl with a rare disease called SCID, which weakens her immune system and prevents her from going outside. For her entire life, she has lived in her house with only her mother and nurse, not wanting anything more than the life she has. That is, until the new family moves in next door, and she sees Olly, a teenage boy who she instantly likes. After talking to him, she figures out that a life without freedom is not a life worth living.
Everything, Everything
is an amazing book with a very creative writing style. It manages to have unpredictable plot twists, with plenty of character and relationship development. Although it has a bit of a slow start, it quickly changes pace. It was full of funny and meaningful dialogue, thought-provoking quotes, and an immersive style. Normally I prefer character or plot-driven books, but in this case I managed to love it although it was heavily centered around romance.
Strengths/Likes:
1)
The author has a unique writing style, and nearly every chapter is different from the one before. The book features diary entries, IM conversations, spy schedules, Madeline's comical "spoiler reviews", drawings, dreams, and every other form of writing you could possibly imagine.
2)
This book had everything I was looking for, from depth to relatable and likable characters.
3)
The ending had exactly the type of plot twist I wasn't expecting, and I enjoyed the element of surprise.
Weaknesses/Dislikes:
1)
Madeline is often selfish and reckless, endangering her life for things that accomplish nothing in the end.
Favorite Quotes/Moments:
1) Madeline:
What color are your eyes?
Olly:
blue
Madeline:
Be more specific please.
Olly:
jesus. girls. ocean blue
Madeline:
Atlantic or Pacific?
Olly:
atlantic. What color are yours?
Madeline:
Chocolate brown.
Olly:
more specific please
Madeline:
75% cacao butter dark chocolate brown.
2)
"How do you manage to carry around an ego that size and weight?"
3)
"Maybe we can't predict everything, but we can predict some things. For example, I am certainly going to fall in love with Olly.
It's almost certainly going to be a disaster."