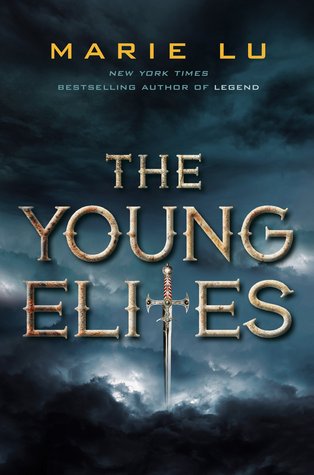 5/5 Stars
Details of the Book
Hardcover, 355 pages
Published by G.P. Putnam's Sons,
an imprint of Penguin Group
Publication Date: October 7, 2014
Synopsis:
I am tired of being used, hurt, and cast aside.
Adelina Amouteru is a survivor of the blood fever. A decade ago, the deadly illness swept through her nation. Most of the infected perished, while many of the children who survived were left with strange markings. Adelina's black hair turned silver, her lashes went pale, and now she has only a jagged scar where her left eye once was. Her cruel father believes she is a malfetto, an abomination, ruining their family's good name and standing in the way of their fortune. But some of the fever's survivors are rumored to possess more than just scars—they are believed to have mysterious and powerful gifts, and though their identities remain secret, they have come to be called the Young Elites.
Teren Santoro works for the king. As Leader of the Inquisition Axis, it is his job to seek out the Young Elites, to destroy them before they destroy the nation. He believes the Young Elites to be dangerous and vengeful, but it's Teren who may possess the darkest secret of all.
Enzo Valenciano is a member of the Dagger Society. This secret sect of Young Elites seeks out others like them before the Inquisition Axis can. But when the Daggers find Adelina, they discover someone with powers like they've never seen.
Adelina wants to believe Enzo is on her side, and that Teren is the true enemy. But the lives of these three will collide in unexpected ways, as each fights a very different and personal battle. But of one thing they are all certain: Adelina has abilities that shouldn't belong in this world. A vengeful blackness in her heart. And a desire to destroy all who dare to cross her.
It is my turn to use. My turn to hurt.
I'm amazed and
horrified
and I
love
it. I'm in awe of how incredible of an author Marie Lu is. She really knows how to twist your feelings around and stomp on your heart. She's a magician, always making you feel like you understand where the trick is going but then slamming you with something completely unexpected. This book made my heart both soar and ache at the same time.
The Young Elites
is incredible beyond words.
Structurally, this book is outstanding. The writing, plot, world-building, character and development are all through the roof. What makes it tilt is how much this book twists the reader around. It's common in YA novels to read about a protagonist that is hated and/or mistreated by everyone. It's also common in YA novels to feel bad for her/him and hate the society that the main character inhabits. Instead, at times I found myself on the side of the society that fears and hates Adelina. She is probably
the most
complex and interesting character I have ever read
in
my life
. I'm struggling so much trying to make up my mind about her. However, I'm pretty sure that this is what Marie Lu intended for this character and that makes me just want to bow down to her.
The Young Elites
deserves all of its hype it gets. It wraps you up in the darkness that stirs inside Adelina and you won't be able to escape it.
Strengths/Likes:
1)
Marie Lu's writing is just amazing. Her prose, her dialogue, all of the details in the plot. Her world and characters are unique. I have nothing but adoration towards her.
2)
Enzo. I
love
him. He's dark, powerful, and
sexy
.
3)
Adelina's character as a whole. Marie Lu has made me feel so many things towards her—sympathy, sadness, admiration, fear, and anger. She is a multi-layered character, as well as the most unique and complex character I have read to date. I have no idea what to feel about her. I want to love her and I want to hate her at the same time.
4)
I already touched on this briefly but it deems repeating—the world-building is amazing. It reminds me of something that would come out of a Hayao Miyazaki film.
5)
I love the muti-POV aspect in this book. It adds an extra layer of perplexity.
Weaknesses/Dislikes:
1)
If you guys saw my guest post on
The Confessions of Carlisa
about my
Bookish Pet Peeves
, you know how much I hate it when the main character has some big secret that it would be better—or at least not like an atomic bomb exploding—if he or she just told the truth. Adelina is holding onto a terrible secret for most of the book and I just kept waiting for the shit to hit the fan.
At the same time I struggle with calling this a weakness because I'm blown away by how this one plays out. I like it and I don't like it at the same time. It's confusing!
Favorite Quotes/Moments:
1)
"Repeat after me," Raffaele says. I nod wordlessly, my throat dry. His words echo all around us.
"I, Adelina Amouteru—"
Violetta will pay for this, you know. Not you, Violetta.
"—hereby pledge to serve the Dagger Society, to strike fear into the hearts of those who rule Kenettra—"
I'll tell you what you want. Just give me one more week. Please.
"—
to take by death what belongs to us, and to make the power of our Elites known to every man, woman, and child."
Three days. If you go back on your word again, I will shoot an arrow through your sister's neck and out the back of her skull.
"Should I break my vow, let the dagger take from me what I took from the dagger."
2)
I grab his dagger and aim for his throat.
His hand clamps hard on my wrist before I can make contact. Heat rushes through me. Something sharp taps against my chest. When I look down, I see a sword point hovering over my ribs. "Don't forget one weapon just because of an other," he says. A flicker of approval flashes in his eyes. "Or you'll find yourself skewered in no time."
"Then maybe you should know which weapons are real," I reply. The dagger I'm holding near his throat vanishes in a puff of smoke. The real dagger I'd taken from him is in my other hand, which I now press to his side.
3)
"Dance with me," he murmurs.
All part of our act. All part of the disguise
. I tell myself this repeatedly, but it doesn't change the way I lean into his touch, how his words stir the longing in my chest. If he notices, he doesn't show it... but he does seem to stand closer than he needs to, and look at me with an intensity that I don't remember seeing before.
4)
He smiles, draws me close, and leans down. The elaborately carved grooves of his mask brush against my skin, and I wonder if it will leave a touch of glitter behind. I close my eye. A moment later, his lips touch my own. Only a touch.
It must have been brief—probably a second, no more—but to me, it seems like forever, like he let us stay this way for a beat longer than needed. The familiar bubbling of heat courses through me, the luxurious feeling of a hot bath on a cold night; I return his kiss, leaning into him, savoring his heat.
5)
Sorry, always sorry. What in the world can you buy with an apology?