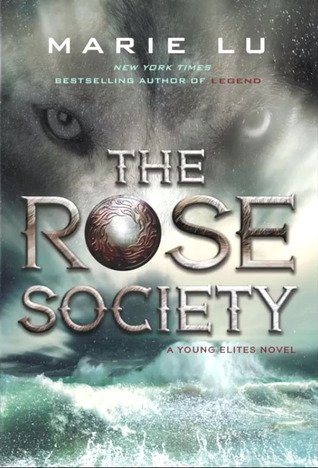 4.5/5 Stars
Details of the Book
paperback ARC, 400 pages
Published by G.P. Putnam's Sons,
an imprint of Penguin Group
Expected Publication Date: October 13, 2015
Synopsis: Once upon a time, a girl had a father, a prince, a society of friends. Then they betrayed her, and she destroyed them all.
Adelina Amouteru's heart has suffered at the hands of both family and friends, turning her down the bitter path of revenge. Now known and feared as the White Wolf, she and her sister flee Kenettra to find other Young Elites in the hopes of building her own army of allies. Her goal: to strike down the Inquisition Axis, the white-cloaked soldiers that murdered her love, the Crown Prince Enzo Valenciano.
But Adelina is no heroine. Her powers, fed only by fear and hate, have started to grow beyond her control. She does not trust her newfound Elite friends. Teren Santoro, leader of the Inquisition, wants her dead. And her former friends, Raffaele and the Dagger Society, want to stop her thirst for vengeance. Adelina struggles to cling to the good within her. But how can someone be good, when her very existence depends on darkness?
WARNING: THERE ARE LIGHT SPOILERS WOVEN INTO THIS REVIEW. What that means is that I don't give exactly what happened away but I have hinted at it. Read at your own risk!
Adelina is losing control of the darkness within her and while she makes new allies, she is losing those who matter to her the most. I had so many things I was hoping for going into this book and even though I got one of my wishes, my heart is broken.
I think it's really interesting reading from the POV of a villain but the sap in me wanted to see Adelina reunite with Daggers. Instead, Adelina is spiraling out of control and becoming drunk on power.
There is a lot of action and new drama in this book but I don't feel like it keeps up with the intensity of The Young Elites. I do like the new characters, especially Magiano, but my new loves were not enough to mend my heartache over Enzo. I don't want to go into details and spoil it for everyone. I'll just be waiting for when this book is unleashed onto the rest of you and we can hold crying parties and eat a lot of ice cream.
Marie Lu's writing is still amazing (duh), I felt every stab and every tear. She is exceptional at giving the reader a glimmer of hope and then annihilating it. Part of me wants to pretend that I haven't read The Rose Society so I can go back to my blissful fantasy bubble I created after I read The Young Elites to ease the pain I feel from reading this book. The Young Elites will get your heart-racing, and The Rose Society will break it.
Strengths/Likes:
1) Marie Lu is really an amazing writer. Through every battle, mental breakdown, and heart-wrenching scene, you feel like it's you feeling those things. Even with characters that aren't likable, through her writing Marie Lu makes them sympathetic and their pain becomes your own.
2) The multi-POV is still awesome. It really pulls the whole book together. It gives the reader a grand scope of what's going on with all of the characters and gives you subtle hints of what's to come.
3) Magiano. I was surprised at how much I liked him considering he's Adelina's new love interest but he's cute and funny. He brings the light that this book needs.
4) The great world-building that started in The Young Elites is further developed in this book. The baliras sound really cool.
Weaknesses/Dislikes:
1) Enzo and Adelina. That's all I'm going to say. (Still love Enzo though.)
2) Violetta kind of got on my nerves a bit. Through The Young Elites I felt bad for her due to how much hate she received from Adelina but in this book she was a bit too self-righteous for me. I think that's how Marie Lu intended her to be though.
3) I missed the intensity I felt while reading The Young Elites in this book. While this has a lot of inner turmoil, it takes away from the heart-racing scenes.
Favorite Quotes/Moments:
1) "I only ask for obedience. If that is too hard, I can help. It is easier to obey without a tongue, and easier to kneel without legs."
2) "Why are powerful men so stupid around a pretty face?"
3) For a fleeting moment, I imagine that if I were queen, I could make the act of hurting malfettos a crime. I could execute this boy's pursuers with a single command.
I start hurrying after them. "Come on," I urge Violetta.
"Don't," she starts to tell me, even though she knows it's pointless.
"I'll be nice." I smile.
She raises an eyebrow at me. "Your idea of nice is different from others."
I have one other quote that is probably my favorite out of all of these but it's such a huge spoiler and I don't want to do that to you guys! I hope you enjoyed this review. If you missed my review of The Young Elites be sure to check it out.