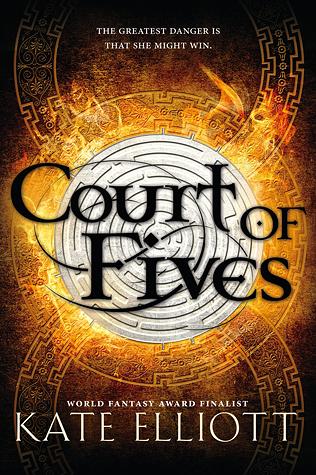 4/5 Stars
Details of the Book
paperback ARC, 432 pages.
Published by Little, Brown and Company
Publication Date: August 18, 2015
Synopsis:
In this imaginative escape into an enthralling new world, World Fantasy Award finalist Kate Elliott begins a new trilogy with her debut young adult novel, weaving an epic story of a girl struggling to do what she loves in a society suffocated by rules of class and privilege.
Jessamy's life is a balance between acting like an upper class Patron and dreaming of the freedom of the Commoners. But at night she can be whomever she wants when she sneaks out to train for The Fives, an intricate, multi-level athletic competition that offers a chance for glory to the kingdom's best competitors. Then Jes meets Kalliarkos, and an unlikely friendship between a girl of mixed race and a Patron boy causes heads to turn. When a scheming lord tears Jes's family apart, she'll have to test Kal's loyalty and risk the vengeance of a powerful clan to save her mother and sisters from certain death.
For this book, I buddy read it with my friend Mariam over at Flying Through Fiction. Thanks Mariam, it was great reading this with you<3 Guys, go over to her blog and show her some love. She won't be posting her review until after Court of Fives is published but when it's up, I'll provide a link for you guys here.
Court of Fives
is a dystopian fantasy that follows the story of Jess, a powerhouse heroine who only wants to compete in the Fives instead of having to act like a proper Patron lady. After her family is torn apart, Jess is ripped away from everything she has ever known and given the opportunity to have everything she has ever dreamed about—all while knowing that on one hand, she has a chance to have all her dreams realized, and on the other, her mother and sisters have been condemned to a fatal end.
I didn't know what to expect going into this book. Although I had read the synopsis, I hadn't heard much about it prior to reading. Nonetheless, it is a book that
needs
to be talked about. Kate Elliot knows how to write a plot filled with hard choices and
no
scapegoats—just the consequences of one's actions.
Court of Fives
has a compelling story that includes some of the fiercest female characters I have ever read.
Although the world in Court of Fives is a patriarchal society, the women in this book really kick ass--and not always in the literal sense. My two favorites are Jess (our MC) and Kiya (Jess' mother). Despite everything they go through, they know how to handle themselves and take care of those closest to them.
My main complaint about this book is that the romance elements are not as complex as the rest of the plot. At times, the main couple's relationship seems genuine and at other times, it seems quite frail. That being said, the love story between the main couple takes a backseat to the rest of the plot so its shortcomings are easy to overlook.
Strengths/Likes:
1)
I love Jess. I think she is one of the best heroines I have read to date. She is strong both physically and emotionally. What makes me admire her the most is that she thinks about what is best for herself, and puts that ahead of what is best for her love interest. That is a unique quality that I don't often see in books. She also doesn't take any crap from anyone. Jess calls it how she sees it and doesn't let others intimidate her. Honestly, I could go on and on about her.
2)
I absolutely love Kiya. She is everything I could ever wish to be. In my experience, it is unusual in YA books for the mother of the protagonist to have such a present role throughout the book. Even when she wasn't present in a scene, I was thinking and worrying about her well-being. She is such an amazing character.
3)
This book carries a lot of important feminist messages--specifically the lack of equality between men and women in both social status and rights. Even though this book is set in a fantasy world that isn't modern in any sense, it has a lot of important themes that are relatable to our world now.
4)
I love the complexity of the plot. There are no easy choices, and there are no grand explanations as to why certain characters make unforgivable ones. There are no scapegoats—just hard decisions and painful outcomes.
5)
The ending of this book is amazing. The entire book leads up to this grand finale and Kate Elliot delivers. Even though I'm not a big fan of Kal's reaction at the very end (my lips are sealed) I'm really happy about where this book left off.
Weaknesses/Dislikes:
1)
In the beginning of the book, I was really confused by descriptions of the different courses in the Fives tournament
—
specifically when it came to the description of Rings. I reread the descriptions a few times, and it wasn't until much later in the book that I understood how they worked.
2)
I'm not a fan of the development of Kal and Jess' relationship. They don't have enough dialogue or time together for me to consider them a real couple—therefore making it difficult to get a feel for their chemistry, or lack thereof. One minute, Jess is lecturing Kal and calling him a coward, and the next, they are kissing like they have been together for a long time. On one hand, maybe they are more realistic because of how back and forth they act, but I'm sold on them as an item yet.
3)
I wish that there was more dialogue amongst the characters. Jess is similar to Katniss from
The Hunger Games
in the sense that she's a very internal character. The problem here though is that there are a lot of other characters crucial to the plot but instead of getting to know them more personally, you mostly just get Jess' assessments of them in her head.
4)
This point is related the previous point. Instead of learning about the other characters and the plot as Jess is living it, Jess narrates to the reader. As if she is talking straight to you. I felt that this took away from some of the dramatic moments of the story because it made it seem as if this moments had already happened.
Favorite Quotes/Moments:
1)
"The first try I miss getting the bar into the hooks and fall, butt to sawdust. The second I get up two posts but miss my timing and crash, rolling to avoid a clumsy stumble. The wooden bar hits my face. My nose hurts but it is not broken. What if I can't do this?
In the mines, you're whipped if you don't work. People get whipped to death.
I get back up.
The third time I focus on how the swing of my legs gives me lift. Sheer grit propels me. When I reach the fourth set of posts and lurch onto the resting platform, I collapse, panting. My arms feel like they're going to break apart, my nose throbs, and my hands won't open because they are cramping.
In the mines, the poisoned air kills you no matter how obedient and hard-working you are. No one who enters the arsenic mines comes out alive. "
2)
"Did you fall in love with her at first sight?"
"No one can fall in love at first sight. Love is built over years, not snapped into existence like a flame that can be as easily extinguished. But I was so struck with her beauty and the pure joy of her laugh that something deep within me changed. Where I grew up I never saw beautiful young women laughing boldly in the market, like they belonged there. The poets sing that a man come to foreign soil leaves his heart behind in the familiar and beloved earth of the village where he grew up. But in that one instant my heart leaped all the mountain vastness and the wild and windy sea to come to rest here on Efean earth. I would never go back to the old country. Maybe I was Saroese once. But I am an Efean man now, and I will fight for Efea."
3)
"Do not underestimate Polodos." He grasps my hands. "Even if he does not, he will obey you because you have the mind and the heart and the courage of a soldier, Jessamy. You should have been my son."
My lips curl as I yank my hands out of his. "I don't want to be your son! I want to be your daughter who matters to you as much as a son would."
4)
"I thought you were captured! I was about to go in and rescue you!"
A spark of brilliant joy surges up from my weary, grief-stricken heart. I squeeze his fingers a little more tightly, enough to make him really notice how strong my grip is. "That's why I had to hurry. I was afraid you would run in to rescue me and get caught and then I would have to rescue you from your rescue of me."